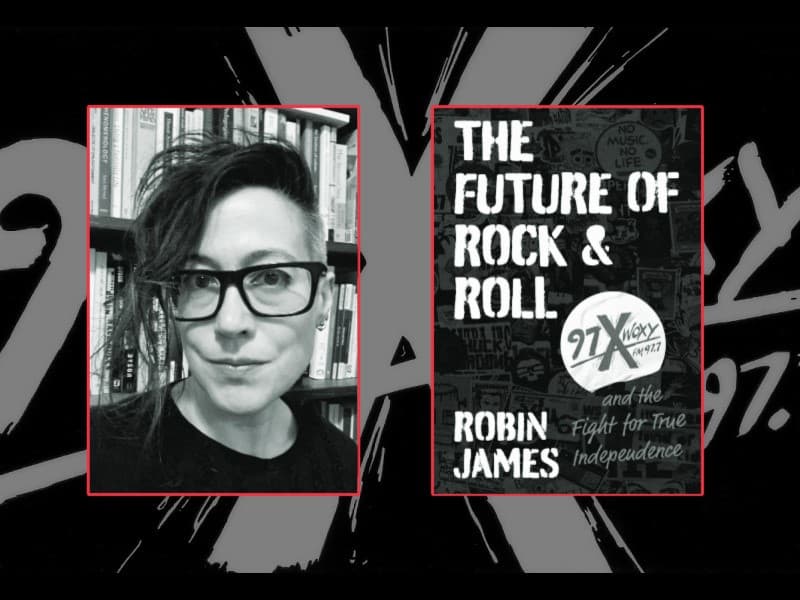 BAM! The Future of Rock & Roll
By The Mercantile Library
BAM! The Future of Rock & Roll:
97X WOXY and the Fight for True Independence
Author Robin James in conversation with Dave Tellmann and Damian Dotterweich
Together with Downbound Books and Shake It Records, we're bringing you an evening all about 97X WOXY, the beloved radio station that defied definition and corporate rock. Philosopher Robin James discusses her new book,
The Future of Rock & Roll
with former 97X DJS Dave Tellmann and Damian Dotterweich. Tellmann and Dotterweich are also the co-hosts of the 97X-focused podcast Rumblings from the Big Bush.
About Robin James: Greater Cincinnati native James is a music writer, philosopher, and editor; she is an author of four books and has bylines in publications including
Jezebel, The Guardian, LARB, and The New Inquiry.
Copies of
The Future of Rock & Roll
will be available for sale & signing courtesy of Downbound Books. Pre-order your copies HERE.
About the book: In 1983, an Ohio radio station called WOXY launched a sonic disruption to both corporate rock and to its conservative home region, programming an omnivorous range of genres and artists while being staunchly committed to local independent art and media. In the 1990s, as alternative rock went mainstream and radio grew increasingly homogeneous, WOXY gained international renown as one of Rolling Stone's "Last Great Independent Radio" stations. The station projected a philosophy that prioritized such independence—the idea that truly progressive, transgressive, futuristic disruptions of the status quo were possible only when practiced with and for other people.
In
The Future of Rock and Roll,
philosopher Robin James uses WOXY's story to argue against a corporate vision of independence—in which everyone fends for themselves—and in favor of an alternative way of thinking and relating to one another that disrupts norms but is nevertheless supported by communities. Against the standard retelling of the history of "modern rock," James looks to the local scenes that made true independence possible by freeing individual artists from the whims of the boardroom. This philosophy of community-rooted independence offers both a counternarrative to the orthodox history of indie rock and an alternative worldview to that of the current corporate mainstream.
hosted by

The Mercantile Library