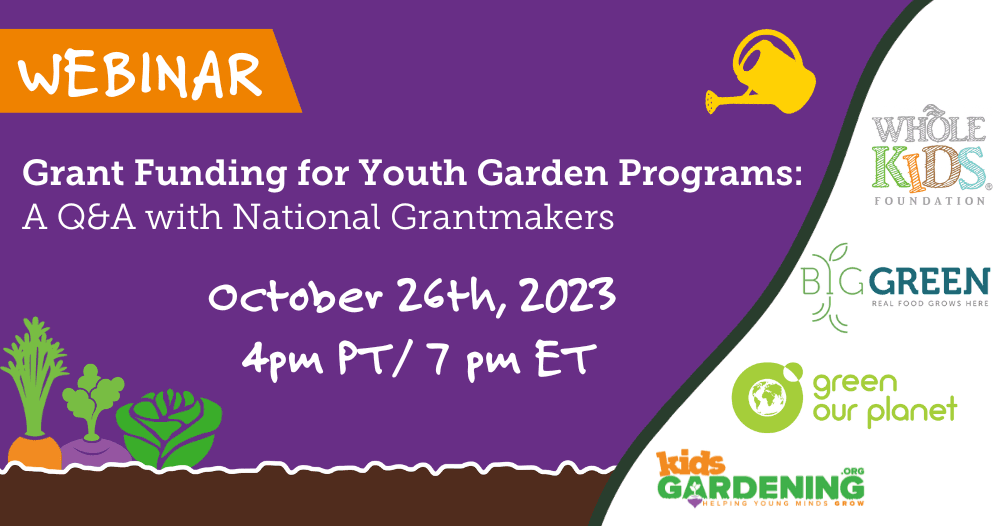 Grant Funding for Youth Garden Programs: A Q&A with National Grantmakers
By KidsGardening
This webinar will be recorded. The recording will be available at this same website immediately following the live session.
Grant funding can be a great way to jumpstart a youth garden program! Have you wondered which organizations offer grant funding to start or expand youth gardens? Or what information is needed to submit a grant application? Or how to write a compelling grant application? Join this webinar to hear from Big Green, Green Our Planet, KidsGardening, and Whole Kids Foundation—all national youth garden grantmakers—about their upcoming grant opportunities.
During the webinar, we will give context about our work together, share resources on grant writing and the grant application process, and then transition to a panel-style discussion where we answer your questions on grants. Attendees, come prepared with your grant writing questions!
Sarah Lane
(she/her) joined KidsGardening in the fall of 2021. As KidsGardening's Program Director, Sarah manages multiple grant programs, leads garden installations, and helps the organization with its general fundraising efforts. Sarah grew up in Seattle, WA, and graduated from Washington State University with a Bachelor of Science in Biology and a Bachelor of Arts in Spanish Language. In 2016, Sarah moved to Arkansas to serve with FoodCorps at Conway Public Schools, where her passion for working with students in garden spaces sprouted. She earned her Master of Arts in Teaching at Trinity University in San Antonio in 2019 and moved back to Arkansas to be a lead teacher at Ferncliff Nature School, a nature-based preschool in Little Rock, before becoming Arkansas's first Farm to School and Early Childhood Education Program Coordinator at the Arkansas Department of Agriculture. Sarah lives in Little Rock, Arkansas, on the traditional land of the Osage and Quapaw People. She loves to travel, eat local food, spend time in gardens, and is building her own tiny house!
Katie Zimmerman
is originally from Madison, WI, and is currently based in Las Vegas, NV. After graduating from Indiana University with a bachelor of science in ballet, Katie spent seven years as an Artist with Nevada Ballet Theater. Throughout her dancing career, Katie enjoyed teaching in both formal and informal settings. Long passionate about nutrition, Katie became increasingly interested in the space where the health of people and the health of the planet meet. Katie is thrilled to have joined Green Our Planet to help empower educators to use school gardens to teach everything from nutrition to conservation. In her free time, Katie enjoys anything that gets her outside. She loves to hike and bike and is becoming an avid camper.
Stephanie Porto
is a Registered Dietitian and holds a master's degree in Pediatric Nutrition. She has experience working in non-profit and academic research settings and has been with Whole Kids Foundation since 2018. In her role at Whole Kids she manages their core and international grant programs, including the Garden and Bee Grants, provides support on data and financial reporting, and manages their intern program. In her free time, she enjoys spending time with her husband, dog, and two cats, taking a walk, and doing yoga.
Laura Thompson
serves as the Director of Strategic Alliances at Big Green. In this role, she leads the organization's place-based growth strategy, and builds alliances on the local and national level in support of organizational grantmaking and programmatic objectives. Throughout her career, Laura has worked across diverse issue areas, from international women's leadership to national service, to build partnerships and build communities' agency through the resources and tools they need to create change. She holds an MA in International Education and a BA in Political Science and English.
Live Captions During Webinar
To turn on live captions during the webinar we recommend using the Chrome browser and following the instructions at the link below to turn them on.
Turn on live captions: https://support.google.com/chrome/answer/10538231?hl=en
hosted by

KidsGardening