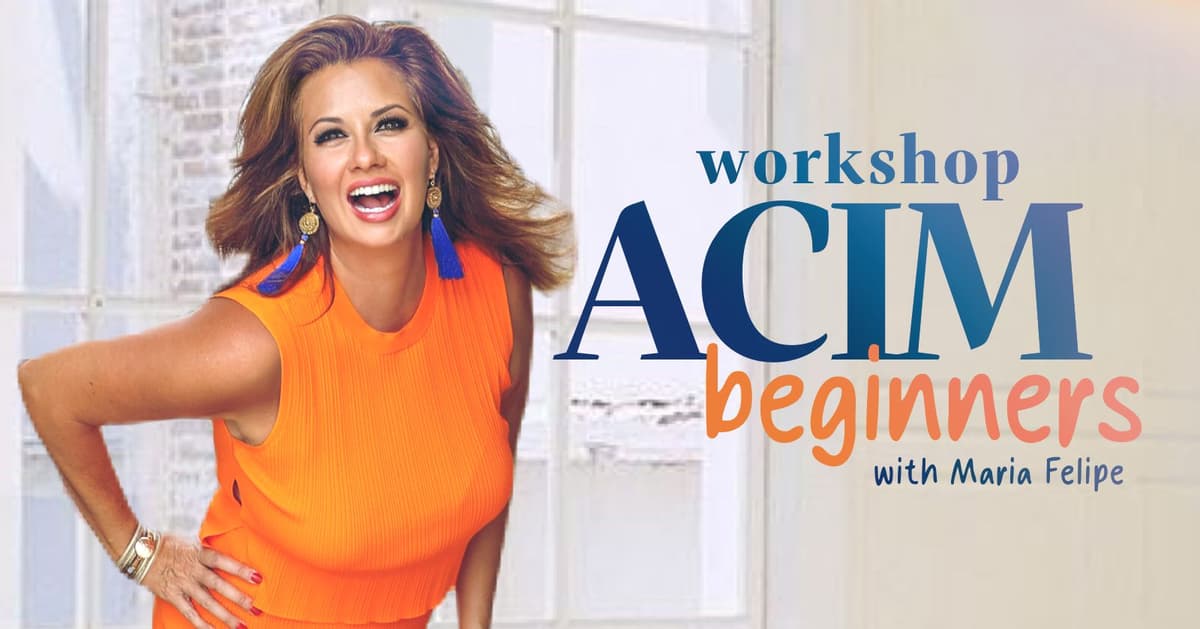 ACIM For Beginners Workshop
By Maria Felipe
Are you ready to embark on a transformative journey towards inner peace and spiritual growth?
This is your opportunity to delve into the profound teachings of A Course in Miracles (ACIM) and unlock the potential for miracles in your life. Join our comprehensive beginner class now on-demand, facilitated by acclaimed speaker, author, and ACIM teacher, Maria Felipe.
Workshop Overview: In this 2-hour online workshop, you will be introduced to the core concepts and principles of ACIM.
Maria Felipe will guide you through a transformative experience, providing clarity and practical applications for daily life. Here's what you can expect to learn:
Introduction to A Course in Miracles:

Explore the history, background, and purpose of ACIM. Understand the three central components: the Text, Workbook for Students, and Manual for Teachers. Gain insight into the unique metaphysical teachings and perspective of ACIM.

Key Principles and Concepts:

Discover the fundamental principles of forgiveness, love, and perception. Learn how to shift your perception from fear to love and experience true inner peace. Understand the illusory nature of the ego and its impact on your daily life.

Practicing Presence and Meditation:

Cultivate awareness through guided meditation practices. Deepen your connection with your inner self and the divine presence within. Experience the transformative power of meditation in aligning with the teachings of ACIM.

Applying ACIM in Daily Life:

Explore practical techniques for integrating ACIM principles into your relationships, work, and daily interactions. Learn how to apply forgiveness and release grievances. Discover tools for healing and transcending limitations.
Cost: $45 includes the live online class with unlimited replay.

Cost: $100 Includes live class, unlimited replay + 1on1 1 hr ACIM session with Maria.
ABOUT MARIA YOUR FACILITATOR
Maria Felipe
is a renowned author and ACIM teacher, dedicated to guiding individuals towards a life of joy, peace, and purpose. With her infectious energy and profound wisdom, Maria has empowered countless individuals to awaken to their true potential and live a life filled with happiness.
hosted by

Maria Felipe