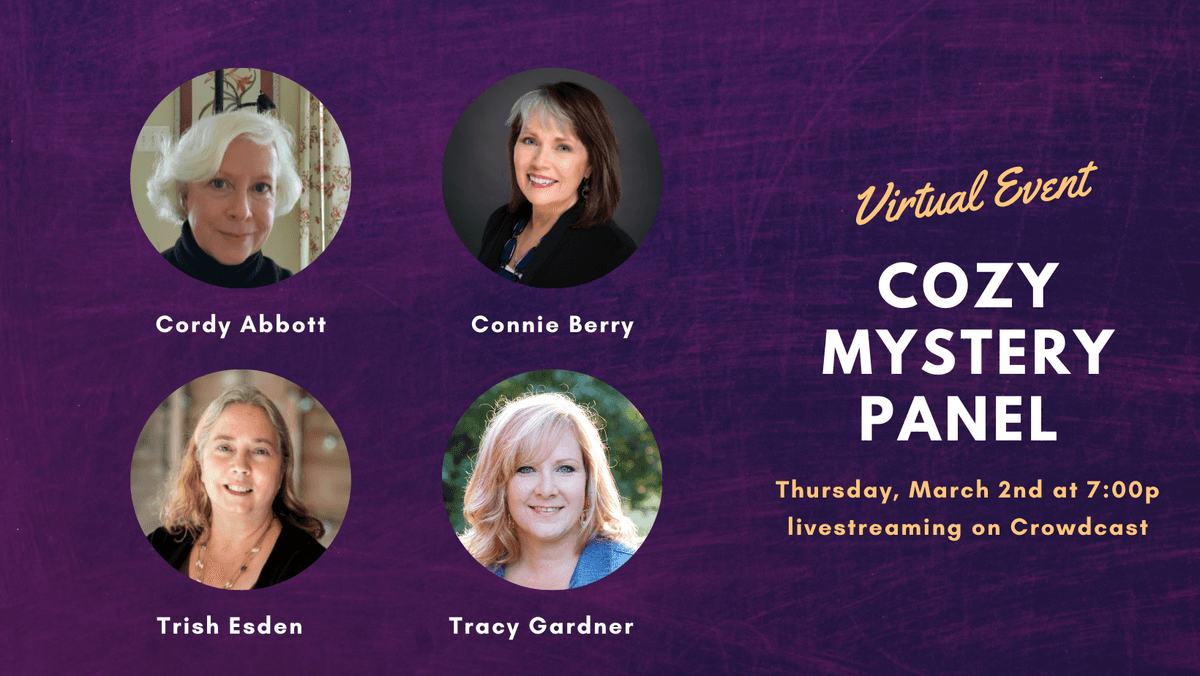 Livestream: Night At The Antiques Store: Four Mystery Writers Tell All
By Mystery to Me
Same focus, different results. Four mystery authors writing novels with antique dealers as their main characters discuss subgenres and voice: what makes us different and why it's important not to compare yourself to other authors.
Proud baby boomer and dog mom Cordy Abbott is the author of the Old Town Antiques Mystery series. She, her husband, and their Standard Schnauzer have lived in Alexandria, Virginia, for over two decades. Because she enjoys everything about the city, she can't wait to share it with readers, even a fictionalized version. When not writing, Cordy enjoys characteristic baby-boomer pursuits: golf, traveling, and volunteering for good causes, like the American Association of University Women of Alexandria and the Delaware River and Bay Lighthouse Foundation. She has a post-graduate certificate in Antiquities Theft and Art Crime. Fans can find her at www.CordyAbbott.com.
DEAD MEN DON'T DECORATE is the first in a new series.
Roberto Fratelli, proprietor of the antiques store Waited4You, is the meanest man in Marthasville, Virginia. So when he puts the business up for sale, the other merchants in town are overjoyed. And now the business has a prospective buyer: local resident and the newly elected mayor's mom, Camille Benson, who's thrilled at the prospect of getting into the antiques business. During a celebration in honor of Camille's new venture, her best friend, Opal, tells her about finding a letter, purportedly from Sally Fairfax to George Washington, dated 1756, hidden under a chair in the shop. When they return to retrieve the cache, they find Roberto's lifeless body on the floor and no letter. If she doesn't find the killer, she could lose everything, but if she does find him, she could become history.
Connie Berry writes the award-winning and best-selling Kate Hamilton Mystery series, set in the UK and featuring an American antiques dealer with a gift for solving crimes. Connie was raised by antiques dealers who instilled in her a passion for history, fine art, and travel. During college she attended St. Clare's, Oxford, where she fell under the spell of the British Isles. Besides reading and writing mysteries, Connie loves foreign travel, cute animals, and all things British. She is a member of Sisters in Crime, Mystery Writers of America and The Crime Writers' Association UK. She lives in Ohio with her husband and adorable dog, Emmie. You can find her at www.connieberry.com.
THE SHADOW OF MEMORY  is the fourth in the Kate Hamilton series.
As Kate Hamilton contemplates her future with DI Tom Mallory, she is also helping her colleague Ivor Tweedy organize an auction in a village on the Suffolk coast. Netherfield Sanatorium, an abandoned Victorian insane asylum, is being converted into luxury flats, and Kate and Ivor have been asked to auction off a fine collection of antiques, including a 15th-century paintingattributed to the Dutch master Jan Van Eyck. But when retired criminal inspector Will Parker is found dead, Kate suspects the halls of the sanatorium housed much more than priceless art. Kate is surprised to learn that Will Parker was her friend Vivian Bunn's first boyfriend. They met in 1963 at a seaside holiday camp when, along with three other teens, they explored an abandoned house where two years earlier a local doctor and his wife had died under bizarre circumstances. Now, when a second member of the childhood gang dies unexpectedly—and then a third—it becomes clear the teens discovered more in the house than they realized. What was the deadly truth they unwittingly found? When Kate makes a shocking connection between a sixty-year-old murder and the long-buried secrets of the sanatorium, she understands that time is running out for Vivian—and anyone connected to her.
Trish Esden loves museums, gardens, wilderness, dogs, and birds, in various orders depending on the day. She lives in northern Vermont where she deals antiques with her husband, a profession she's been involved with since her teens. Don't ask what her favorite type of antique is. She loves hunting for old bottles and rusty barn junk as much as she enjoys fine art and furnishings. Trish is the author of the
Scandal Mountain Antiques Mystery
series which explores the secretive and adrenaline-charged underbelly of the antique and art world. You can find her at https://trishesden.com.
THE ART OF THE DECOY is the first in the Scandal Mountain series.
It should have been a simple appraisal. If it weren't for the thief.
After her mother is sent to prison for art forgery, Edie Brown returns to Northern Vermont to rebuild her family's fine art and antiques business. She's certain she can do it now that her mother's gone. After all, butting heads with her mom over bad business practices was what drove Edie away three years ago, including a screwup that landed Edie on probation for selling stolen property.
When Edie scores a job appraising a waterfowl decoy collection at a hoarder's farmhouse, she's determined to take advantage of the situation to rebuild the business's tarnished reputation and dwindling coffers. In lieu of payment, Edie intends to cherry-pick an exceptional decoy carved by the client's renowned Quebecoise folk artist ancestors. Only the tables turn when the collection vanishes.
Accused of the theft, Edie's terrified that the fallout will destroy the business and land her in prison next to her mom. She convinces the client to give her five days to find and return the decoys before calling the authorities. Desperate, she digs into the underbelly of the local antiques and art world. When Edie uncovers a possible link between the decoy theft and a deadly robbery at a Quebec museum, she longs to ask her ex-probation officer, and ex-lover, for help. But she suspects his recent interest in rekindling their romance may hide a darker motive.
With the help of her eccentric uncle Tuck and Kala, their enigmatic new employee, Edie must risk all she holds dear to expose the thieves and recover the decoys before the FBI's Art Crime Team or the ruthless thieves themselves catch up with her.
Tracy Gardner is an Edgar Award nominated mystery and women's fiction author. Her latest mystery novel, PERIL AT PENNINGTON MANOR, is the second in the series that began with RUBY RED HERRING, a Mary Higgins Clark Edgar Award finalist and a New York Public Library Best 100 of 2021 book. She also penned Hallmark Publishing's first cozy mystery series, the Shepherd Sisters Mysteries.
Tracy also writes women's and book club fiction as Jess Sinclair, with SECRETS WE KEPT, an emotional family drama surrounding two rival families in a coastal fishing village as a recently widowed fisherman's daughter and the rival son work to discover the truth about her mother's unexplained death.
A Detroit native and mother of three, Tracy is a daughter of two teachers who works as a nurse when not writing. She lives with her husband and best friend of thirty years and a menagerie of spoiled rescue dogs and cats. You can find her at www.tracygardnerbeno.com.
PERIL AT PENNINGTON MANOR is the second in the Avery Ayers Antiques Mysteries.
Thanks to Aunt Midge's unlikely friendship with Nicholas Pennington, the Duke of Valle Charme, Avery Ayers and her associates at Antiques and Artifacts Appraised head off to their most glamorous assignment yet—cataloguing and appraising the contents of a castle-like mansion on the Hudson River. But regal splendor becomes a backdrop to mayhem when A precious Viktor Petrova timepiece disappears—and housekeeper Suzanne Vick plummets from a parapet to her death.
Avery, her dad, William, and colleagues Micah Abbott and Sir Robert Lane soon learn that Suzanne's predecessor also met with an untimely end. Further, the housekeeper's suspicious demise coincides with Avery's discovery that many of the Duke's most priceless heirlooms have been replaced by fakes. Detective Art Smith lends his expertise, but the suspect list encompasses the Duke's entire retinue—including his family. Could the killer be someone intimately familiar with the Pennington estate, such as caretaker couple Ira and Lynn Hoffman, the Pennington's chauffeur, Roderick, or even one of the heirs to the Pennington fortune?
Then the duke himself is injured in an inexplicable riding accident, and the clock swiftly ticks toward a reckoning with a cold-blooded killer. A criminal mastermind is making a desperate bid for ill-gotten riches… can Avery bring the culprit to justice before her time is up?
hosted by

Mystery to Me