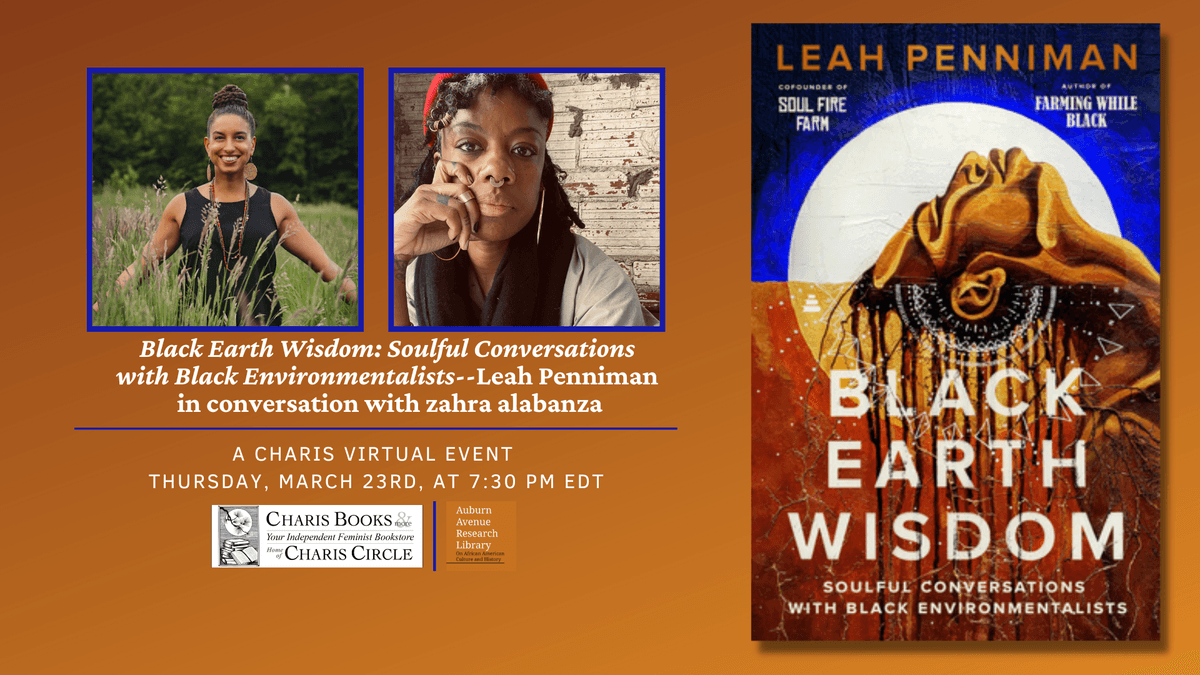 Black Earth Wisdom: Soulful Conversations with Black Environmentalists--Leah Penniman in conversation with zahra alabanza
By Charis Books and More/Charis Circle
Charis welcomes Leah Penniman in conversation with zahra alabanza for a discussion of
Black Earth Wisdom: Soulful Conversations with Black Environmentalists
, a soulful collection of illuminating essays and interviews that explore Black people's spiritual and scientific connection to the land, waters, and climate, curated by the acclaimed author of 
Farming While Black
. 
This event is co-hosted by the Auburn Avenue Research Library on African American Culture and History.
Author of 
Farming While Black
 and co-founder of Soul Fire Farm, Leah Penniman reminds us that ecological humility is an intrinsic part of Black cultural heritage. While racial capitalism has attempted to sever our connection to the sacred earth for 400 years, Black people have long seen the land and water as family and understood the intrinsic value of nature.
This thought-provoking anthology brings together today's most respected and influential Black environmentalist voices —leaders who have cultivated the skill of listening to the Earth —to share the lessons they have learned. These varied and distinguished experts include Pulitzer Prize and National Book Award-winning author Alice Walker; the first Queen Mother and official spokesperson for the Gullah/Geechee Nation, Queen Quet; marine biologist, policy expert, and founder and president of Ocean Collectiv, Dr. Ayana Elizabeth Johnson; and the Executive Director of the North Carolina Association of Black Lawyers, Land Loss Prevention Project, Savi Horne. In 
Black Earth Wisdom
, they address the essential connection between nature and our survival and how runaway consumption and corporate insatiability are harming the earth and every facet of American society, engendering racial violence, food apartheid, and climate injustice.
Those whose skin is the color of soil are reviving their ancestral and ancient practice of listening to the earth for guidance. Penniman makes clear that the fight for racial and environmental justice demands that people put our planet first and defer to nature as our ultimate teacher.
Alice Walker • adrienne maree brown • Dr. Ross Gay • Dr. Ayana Elizabeth Johnson • Rue Mapp • Dr. Carolyn Finney • Audrey Peterman • Awise Agbaye Wande Abimbola • Ibrahim Abdul-Matin • Kendra Pierre-Louis • Latria Graham • Dr. Lauret Savoy •Ira Wallace • Savi Horne • Dr. Claudia Ford • Dr. J. Drew Lanham • Dr. Leni Sorensen • Queen Quet • Toshi Reagon • Yeye Luisah Teish • Yonnette Fleming • Naima Penniman • Angelou Ezeilo • James Edward Mills • Teresa Baker • Pandora Thomas • Toi Scott • Aleya Fraser • Chris Bolden-Newsome • Dr. Joshua Bennett • B. Anderson • Chris Hill • Greg Watson • T. Morgan Dixon • Dr. Dorceta Taylor • Colette Pichon Battle • Dillon Bernard • Sharon Lavigne • Steve Curwood • and Babalawo Enroue Halfkenny
Leah Penniman
 (li/she/ya/elle) is a Black Kreyol farmer/peyizan, mother, soil nerd, author, and food justice activist from Soul Fire Farm in Grafton, NY. She co-founded Soul Fire Farm in 2010 with the mission to end racism in the food system and reclaim our ancestral connection to land. Leah has been farming since 1996, holds an MA in Science Education and a BA in Environmental Science and International Development from Clark University, and is a member of clergy in West African Indigenous Orisa tradition. The work of Leah and Soul Fire Farm has been recognized by the Soros Racial Justice Fellowship, Fulbright Program, Grist 50, Pritzker Environmental Genius prize, and James Beard Leadership Award, among others. Her first book, 
Farming While Black: Soul Fire Farm's Practical Guide to Liberation on the
Land
 is a love song for the land and her people.
zahra alabanza
conjures enthusiasm for life by practicing pleasure and play, living simply, and working hard via labor and manifestation.  Being a parent, organizer, creator, and adventurer are a few roles that allow her to explore the depths of life and community.  As a visionary, project starting, community weaving, and overloving outdoor junkie, she utilizes experience and space curation, outdoor adventure, land base work, and wellness rituals as the root of her community organizing efforts to enhance the quality of life among Black folk. Her work centers Black women, children, and queer folks and meets at the intersection of justice, healing, quality of life, and Black liberation.
zahra is the principal consultant at  Blue In Green Consulting,  co-founder of  Red Bike and Green-Atlanta and Black Freedom Outfitters, both entities centering BlackJoy in the outdoors. She is also on the leadership team for Radical Adventure Riders and a co-founder of the Untokening and the Anna Julia Learning and Liberation Center. zahra is a yoga practitioner, doula, and urban grower. She is into surfing, sailing, books, and leisure. Home is in Atlanta with her two children and an extended tribe. zahra has visited almost 40 countries on 6 continents. She wants so much out of life and can't wait to see what more it can offer.
This event is free and open to all people, especially to those who have no income or low income right now, but we encourage and appreciate a solidarity donation in support of the work of Charis Circle, our programming non-profit. Charis Circle's mission is to foster sustainable feminist communities, work for social justice, and encourage the expression of diverse and marginalized voices. https://donatenow.networkforgood.org/CharisCircle?code=chariscirclepage
Please contact us at [email protected] or 404-524-0304 if you would like ASL interpretation at this event. If you would like to watch the event with live AI captions, you may do so by watching it in Google Chrome and enabling captions: Instructions here. If you have other accessibility needs or if you are someone who has skills in making digital events more accessible please don't hesitate to reach out to [email protected]. We are actively learning the best practices for this technology and we welcome your feedback as we begin this new way of connecting across distances.
By attending our virtual event you agree to our Code of Conduct: Our event seeks to provide a harassment-free experience for everyone, regardless of gender, gender identity and expression, age, sexual orientation, disability, physical appearance, body size, race, ethnicity, religion (or lack thereof), class, or technology choices. We do not tolerate harassment in any form. Sexual language and imagery are not appropriate. Anyone violating these rules will be expelled from this event and all future events at the discretion of the organizers. Please report all harassment to [email protected] immediately.
hosted by

Charis Books and More/Charis Circle