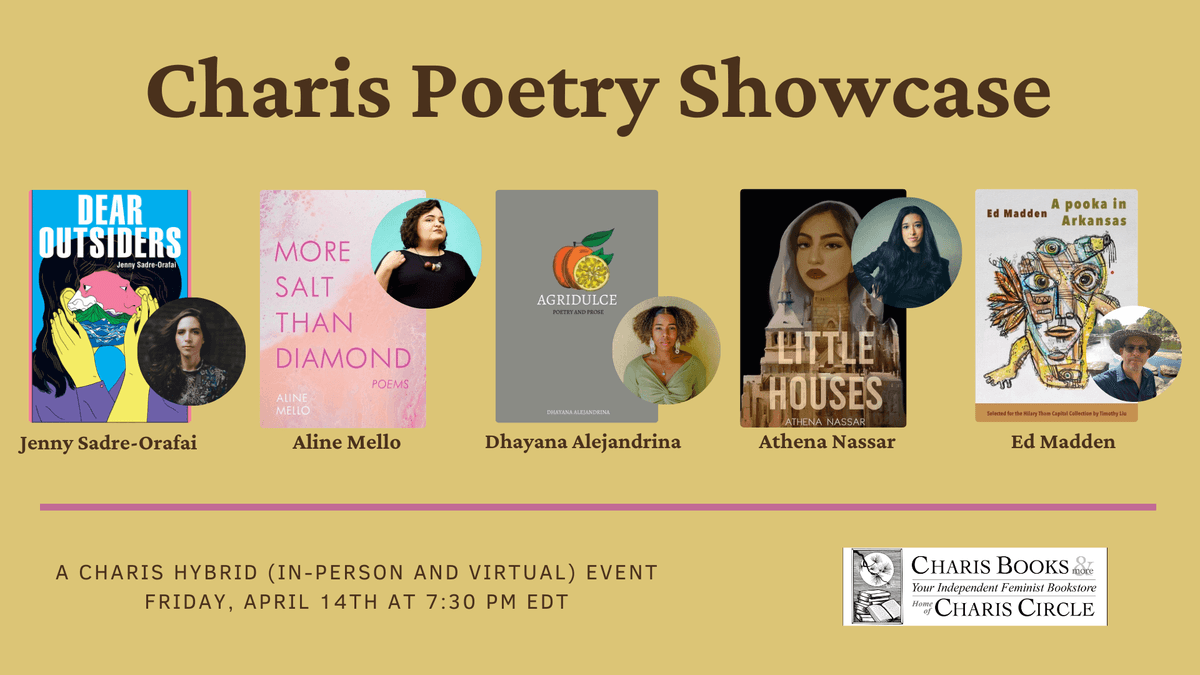 Charis Poetry Showcase
By Charis Books and More/Charis Circle
In honor of National Poetry Month, Charis presents an exciting showcase of local and regional poets! Aline Mello (
More Salt than Diamond: Poems
)
, Athena Nassar (
Little Houses
)
, Dhayana Alejandrina (
Agridulce: poetry and prose
)
, Jenny Sadre-Orafai (
Dear Outsiders
)
, and Ed Madden (
A pooka in Arkansas
)
 represent a range of voices and styles in contemporary poetics. Join us virtually or in-person to explore these "small bites" of each poet's larger works, which are sure to leave you hungry for more!
Aline Mello
is a Brazilian undocumented immigrant writer. Aline's poetry, essays, and stories explore themes of identity, displacement, family, religion, the body, and others. She is an MFA student at Ohio State University. Her poetry collection MORE SALT THAN DIAMOND is out now. Find her online at @thealinemello and thealinemello.com.
Athena Nassar
is an Egyptian-American poet from Atlanta, Georgia. She is the author of the debut poetry collection
Little Houses
(Sundress Publications). She is the winner of the 2021 San Miguel Writers' Conference Writing Contest, the 2021 Academy of American Poets College Prize, and the 2019 Scholastic National Gold Medal Portfolio Award, among other honors. Her work has appeared in
Academy of American
Poets,
The Missouri Review,
Southern Humanities Review
,
Pleiades,
The Los Angeles Review,
and elsewhere. She plans to attend Vanderbilt University's MFA Program in the fall.
Dhayana Alejandrina
is a Dominican poet
, 
storyteller
, 
and writing mentor from Santo Domingo, Dominican Republic. She performed her initial open mic in Okinawa, Japan, where she resided for four years. Her literary work scours inner growth, devotion, culture, and spiritual healing. The Dominican Writers Association, Al Día Newspaper, the Kindness Book by UNESCO MGIEP, Penguin India Publishing, and many others have published her. In 2021, Dhayana published her first collection of variant prose and poetry, 
Agridulce
, which shines the light on the importance of acknowledging our emotions and experiences as a path to self-awareness and discovery. She's currently working on her second collection and preparing for a poetry tour with Alegría Publishing in October 2023.
Jenny Sadre-Orafai
is the author of
Paper Cotton Leather, Malak
, and
Dear Outsiders
and she is the co-author of
Book of Levitations.
Her prose has appeared in
The Rumpus
,
Fourteen Hills
,
The Los Angeles Review
,
The Collagist
, and others. She has taught at the university level for twenty-one years. Currently, she is a Professor of English at Kennesaw State University where she teaches creative writing. She has served as a mentor in the Association of Writers and Writing Programs' Writer to Writer mentorship program and is a mentor in the Periplus Collective, a program for writers of color. In 2012, Sadre-Orafai co-founded the literary journal
Josephine Quarterly
with poet Komal Mathew. She is the former Executive Director of the nonprofit organization Georgia Writers. She explores identity, the natural world, and family in her poetry collections and in her essays.
Ed Madden
is the author of five books and four chapbooks of poetry, most recently Ark, about his father's last months in hospice care, and So they can sing, which won the 2016 Robin Becker Chapbook Prize. He is a professor of English and the former director of Women's and Gender Studies at the University of South Carolina, where he teaches Irish literature, queer studies, and creative writing. From 2015 through 2022, Ed has served as the poet laureate for the City of Columbia, SC. He is recipient of an Academy of American Poets Laureate Fellowship and artist residencies at the Hambidge Center in Georgia and the Instituto Sacatar in Itaparica, Brazil.
This event is free and open to all people, especially to those who have no income or low income right now, but we encourage and appreciate a solidarity donation in support of the work of Charis Circle, our programming non-profit. Charis Circle's mission is to foster sustainable feminist communities, work for social justice, and encourage the expression of diverse and marginalized voices. https://donatenow.networkforgood.org/CharisCircle?code=chariscirclepage
In-person event guidelines:
All attendees must wear a face mask at all times inside the building

We will begin seating people at 7:00 PM ET.

This event will be live-streamed via crowdcast. Click here to register to attend virtually.

As a reminder: If you are not feeling well, please do not come to the event.

If you have any questions regarding these guidelines or to request specific accessibility accommodations, please contact [email protected] or call the store at 404-524-0304
If you would like to watch the virtual event with computer-generated captions, please watch in Google Chrome and enable captions. If you have other accessibility needs or if you are someone who has skills in making digital events more accessible please don't hesitate to reach out to [email protected]. We are actively learning the best practices for this technology and we welcome your feedback as we continue to connect across distances.
By attending our event you agree to our Code of Conduct: Our event seeks to provide a harassment-free experience for everyone, regardless of gender, gender identity and expression, age, sexual orientation, disability, physical appearance, body size, race, ethnicity, religion (or lack thereof), class, or technology choices. We do not tolerate harassment in any form. Sexual language and imagery are not appropriate. Anyone violating these rules will be expelled from this event and all future events at the discretion of the organizers. Please report all harassment to [email protected] immediately.
hosted by

Charis Books and More/Charis Circle