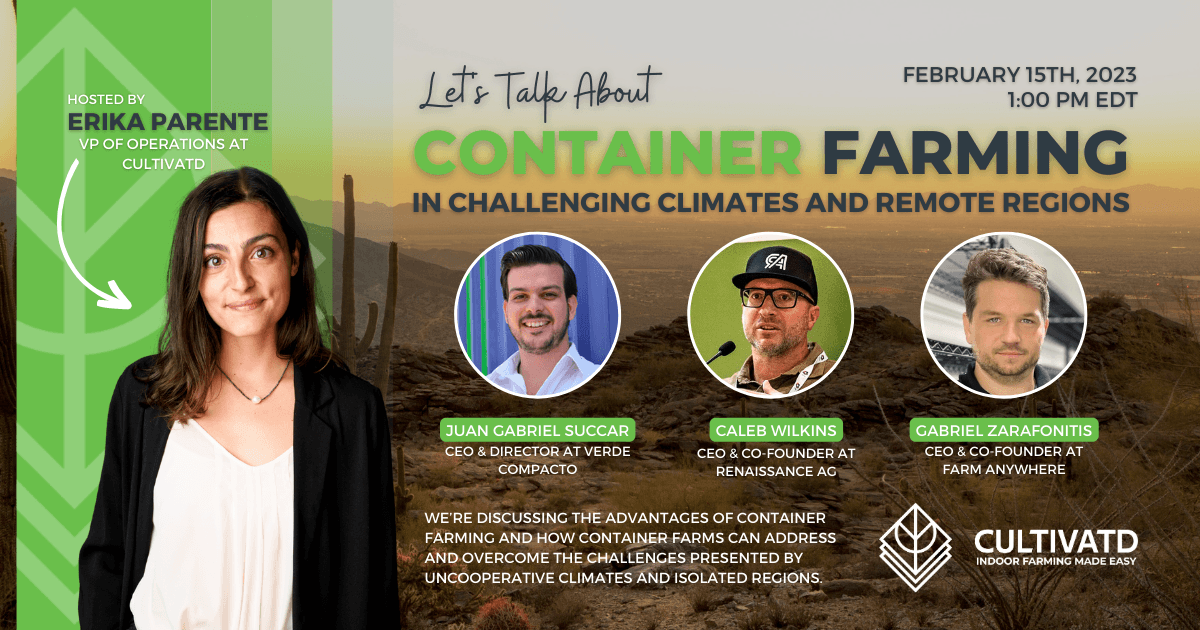 Container Farming in Challenging Climates & Remote Regions [WEBINAR]
By Cultivatd - Indoor Farming Made Easy
Encouraging higher agricultural productivity to deliver an adequate and consistent supply of food, feed, fiber, and fodder for a growing human and livestock population is a significant challenge for agricultural production systems in arid and semi-arid regions. To meet the diverse agricultural needs of a growing worldwide population, it is necessary to discover or develop appropriate techniques for agriculture production in every region of the world.
Arid lands comprise the most widespread terrestrial biome on Earth and are home to over 20% of the world's population.
Engineered to overcome challenges experienced by traditional agriculture production - such as extreme weather conditions, pests, short growing seasons, and environmental limitations, container farms hold the potential to grow food in regions where traditional farming is impossible; such as Arctic, desert, and urban environments.
We've assembled a panel of industry experts to discuss the advantages of container farming and how container farms, as a dependable Controlled Environment Agriculture (CEA) solution, can address and overcome the challenges presented by uncooperative climates and distant, isolated regions.
Juan Gabriel Succar
-
CEO & Director at Verde Compacto
Juan Gabriel Succar is the Co-founder, Co-CEO, and Director of Business Intelligence at Verde Compacto, an AgTech startup promoting a new era of agriculture that is focused on food security for the planet and promoting the production and accessibility of healthy food for the world's growing population.
Caleb Wilkins
-
CEO & Co-Founder at Renaissance Ag
As the CEO of Renaissance Ag, Caleb is highly-engaged in building the "rebar" of agriculture - livestock feed. Under his leadership, the company is focused on the small and mid-sized livestock producers of the world, and strives to connect them to the supply chain in a more meaningful and sustainable way.
Gabriel Zarafonitis
-
CEO & Co-Founder at Farm Anywhere
Gabriel has been a lead facility designer since 2015 in vertical farming. Designing inside buildings and more specifically, in shipping container farms. Furthermore, he is responsible for multiple container projects and his designs are used by many companies today.
hosted by

Cultivatd - Indoor Farming Made Easy