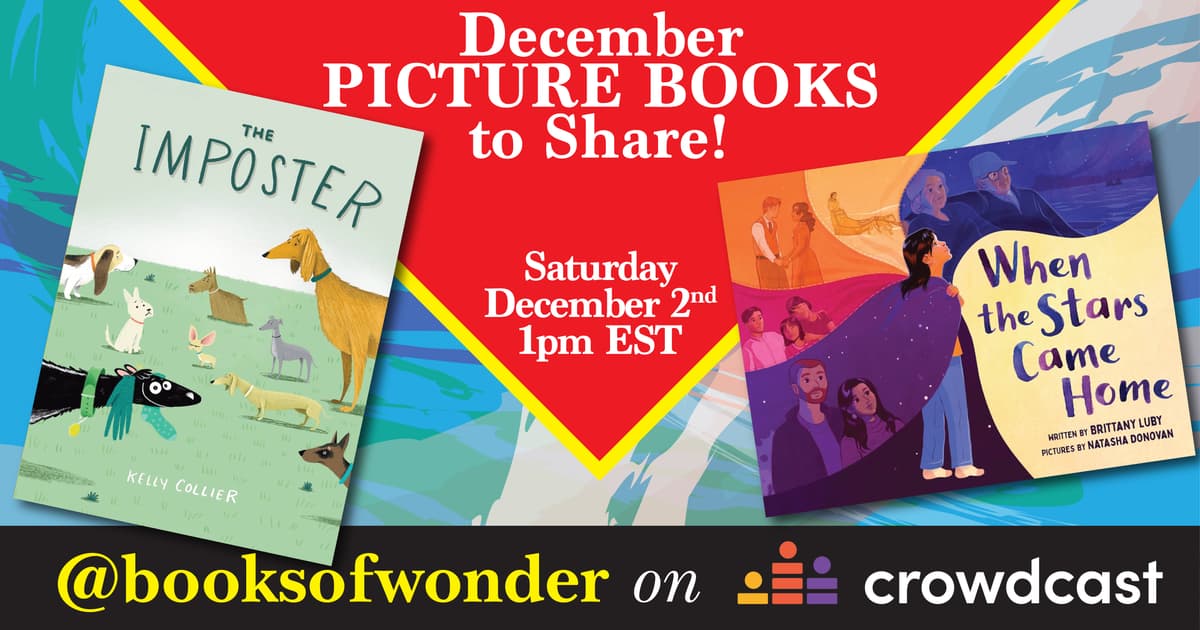 December Picture Books to Share!
By Books of Wonder
Picture Books Perfect for Gifting!
These bright new picture books are perfect for sharing with your young readers, and you won't want to miss tuning in to this delightful virtual event!
The Imposter

 by

KELLY COLLIER

. Skunk wants to be a dog.

EVERYONE

loves dogs. And every dog seems to have exactly what he's looking for: a home and a family. When Skunk sees a "lost" poster for Max the dog, he wonders if he can pass himself off as the missing pet. He enlists the help of three neighborhood critters — a racoon, a cat, and a squirrel — who train him in the art of being a dog with hilarious results. But, uh-oh, there's just one thing Skunk didn't account for... Will it prevent him from finding a home where he belongs?

When the Stars Came Home

by

BRITTANY LUBY

. When Ojiig moves to the city with his family, he misses everything they left behind. Most of all, he misses the sparkling night sky. Without the stars watching over him, he feels lost. His parents try to help, but nothing seems to work. Not glow-in-the-dark sticker stars, not a star-shaped nightlight. But then they have a new idea for how to make Ojiig feel better — a special quilt stitched through with family stories that will wrap Ojiig in the warmth of knowing who he is and where he came from. Join this irresistible family as they discover the power of story and tradition to make a new place feel like home.
Saturday, December 2nd at 1PM ET via Crowdcast!