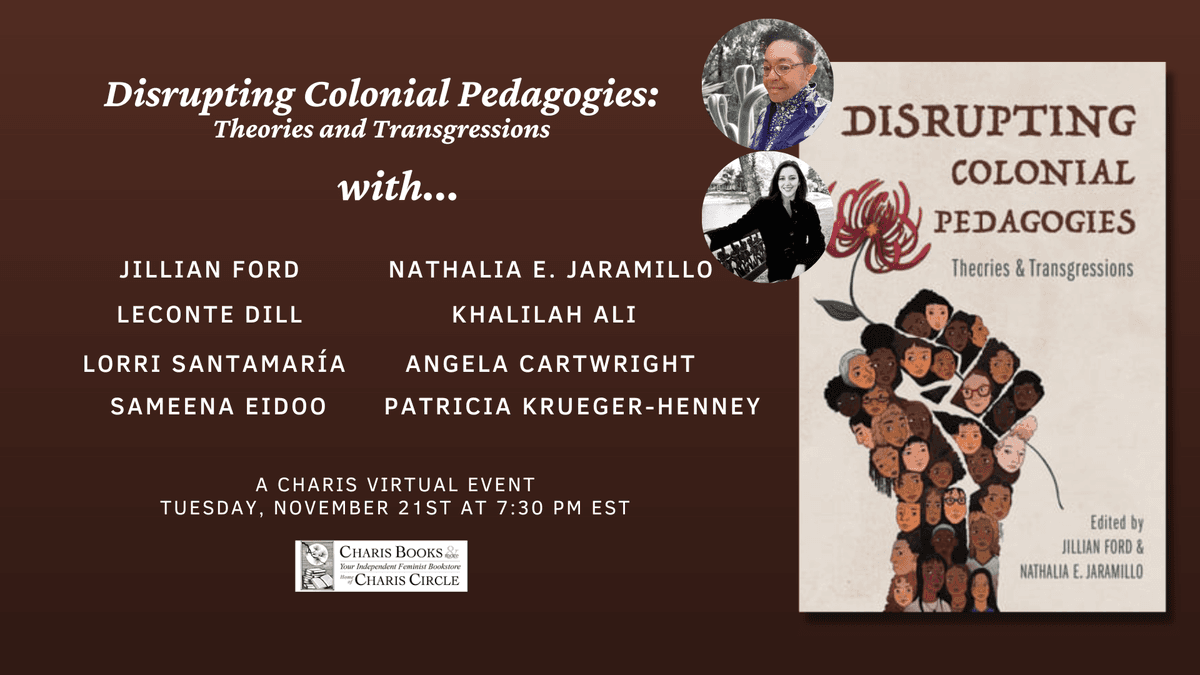 Disrupting Colonial Pedagogies: Theories and Transgressions
By Charis Books and More/Charis Circle
Charis welcomes editors Jillian Ford and Nathalia E. Jaramillo for a panel discussion of
Disrupting Colonial Pedagogies: Theories and Transgressions
. In addition to the editors, the participating contributors include: LeConte Dill, Khalilah Ali, Lorri Santamaría, Angela Cartwright, Sameena Eidoo, and Patricia Krueger-Henney. Disrupting Colonial Pedagogies is a collection of writings by women that examine womanist worldviews in philosophy, theory, curriculum, public health, and education.
Drawing on thinkers like bell hooks and Cynthia Dillard, the essayists challenge the colonizing hegemonies that raise and sustain patriarchal and male-centered systems of teaching and learning. Part One examines how womanist theorizing and creative activity offer a space to study the impact of conquest and colonization on the Black female body and spirit. In Part Two, the contributors look at ways of using text, philosophy, and research methodologies to challenge colonizing and colonial definitions of womanhood, enlightenment, and well-being. The essays in Part Three undo the colonial pedagogical project and share the insights they have gained by freeing themselves from its chokehold.
Powerful and interdisciplinary, 
Disrupting Colonial Pedagogies
 challenges colonialism and its influence on education to advance freer and more just forms of knowledge making.
Jillian Ford
 is an associate professor of social studies education at Kennesaw State University, and a former Charis Circle board of director.
Nathalia E. Jaramillo
 is a professor of interdisciplinary studies at Kennesaw State University. She is the author of 
Immigration and the Challenge of Education: A Social Drama Analysis in South Central Los Angeles
.
This event is free and open to all people, especially to those who have no income or low income right now, but we encourage and appreciate a solidarity donation in support of the work of Charis Circle, our programming non-profit. Charis Circle's mission is to foster sustainable feminist communities, work for social justice, and encourage the expression of diverse and marginalized voices. https://donatenow.networkforgood.org/CharisCircle?code=chariscirclepage
Please contact us at [email protected] or 404-524-0304 if you would like ASL interpretation at this event. If you would like to watch the event with live AI captions, you may do so by watching it in Google Chrome and enabling captions: Instructions here. If you have other accessibility needs or if you are someone who has skills in making digital events more accessible please don't hesitate to reach out to [email protected]. We are actively learning the best practices for this technology and we welcome your feedback as we begin this new way of connecting across distances.
By attending our virtual event you agree to our Code of Conduct: Our event seeks to provide a harassment-free experience for everyone, regardless of gender, gender identity and expression, age, sexual orientation, disability, physical appearance, body size, race, ethnicity, religion (or lack thereof), class, or technology choices. We do not tolerate harassment in any form. Sexual language and imagery are not appropriate. Anyone violating these rules will be expelled from this event and all future events at the discretion of the organizers. Please report all harassment to [email protected] immediately.
hosted by

Charis Books and More/Charis Circle