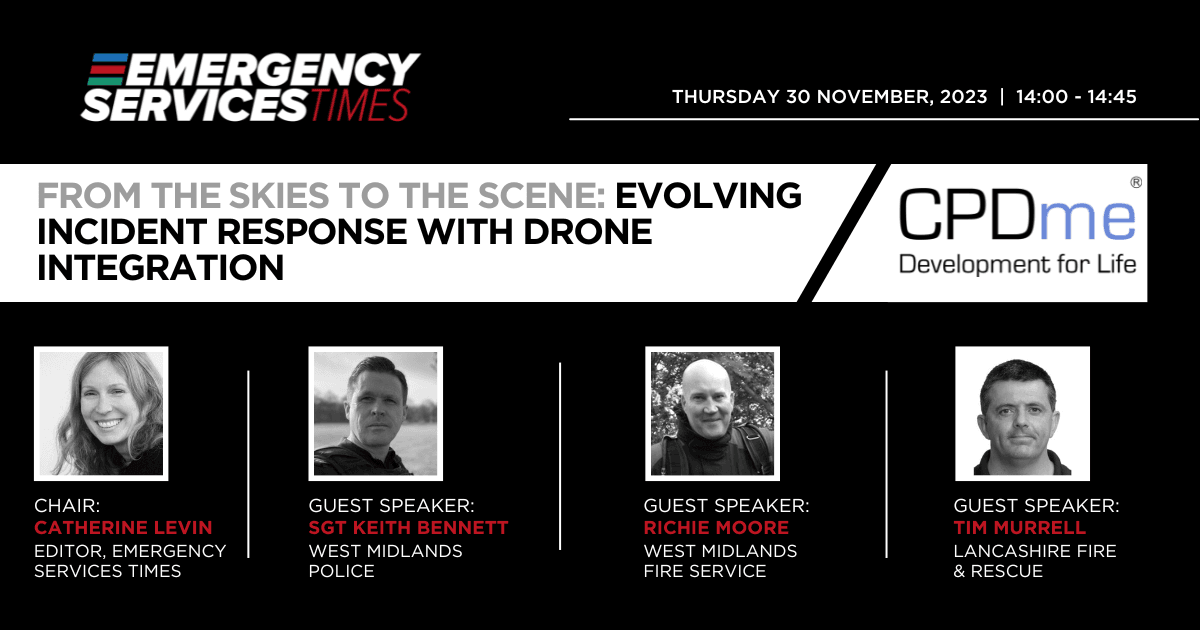 From the Skies to the Scene: Evolving Incident Response with Drone Integration
By Emergency Services Times
Witness the ground-breaking collaboration between West Midlands Police and West Midlands Fire Service as they harness the power of drones to revolutionise incident response.
Enjoy this unique opportunity to learn from experts at the forefront of drone technology integration and gain insights into the incredible potential that lies ahead.
Our webinars are now
CPD-accredited!
Offering participants the assurance of high-quality, industry-relevant education with the added benefit of recognised and accredited learning outcomes.
Discover the diverse range of scenarios where

drones are becoming indispensable tools

for operational response, and learn how drones are employed to enhance situational awareness, support decision-making, and improve overall incident management.

Delve into the operational efficiencies that arise from the

strategic deployment of drones

, and understand how they can help save valuable time and resources, reduce risks to responders, and enhance the effectiveness of emergency response efforts.

Explore the

advantages of multi-agency collaboration

in the context of drone technology. Witness how West Midlands Police and West Midlands Fire Service work together seamlessly to optimise the use of drones, ensuring a

co-ordinated and efficient response

to complex incidents.

Uncover the potential for drones to

serve as community engagement tools

. Learn how drones can be employed for public outreach, education, and building trust within the community, all while fostering a sense of security and shared responsibility.
Date:
Thursday 30 November 2023, 14:00
Catherine Levin
, Editor, Emergency Services Times
Sgt Keith Bennett
, Drone/Counter Drone Lead & Trainer, West Midlands Police
Richie Moore
, Station Commander, West Midlands Fire Service
Tim Murrell
, NFCC Drones Lead, Lancashire Fire & Rescue
hosted by

Emergency Services Times