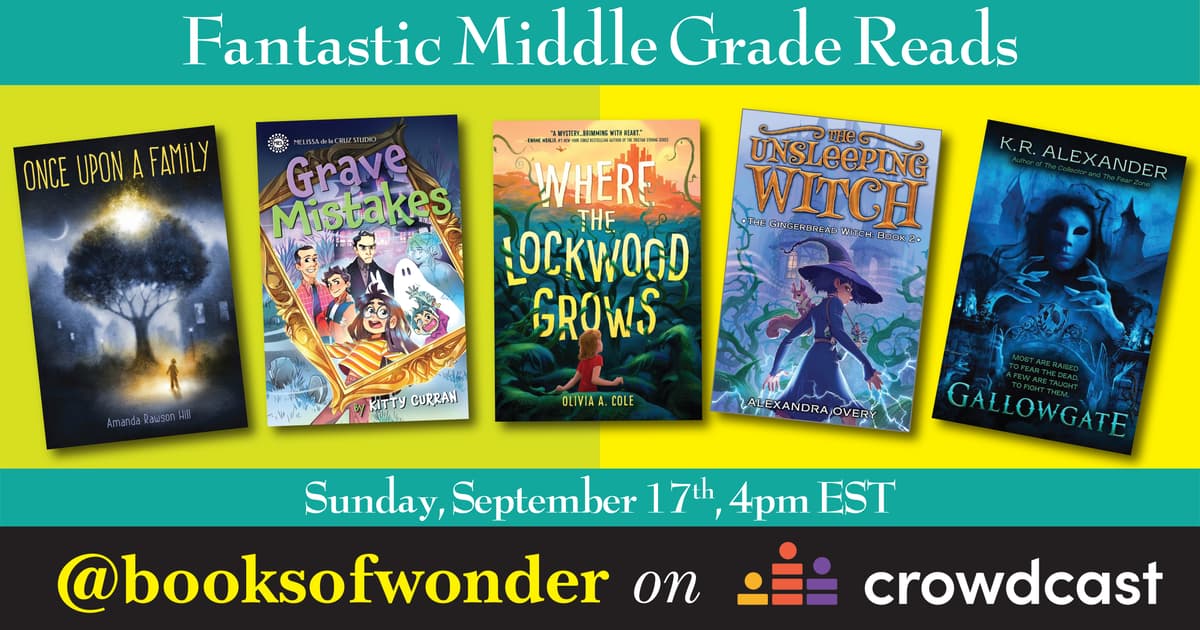 Fantastic Middle Grade Reads
By Books of Wonder
Spooky Tales and Wishful Thinking!
These titles are sure to make you gasp! Wishes gone away, supernaturally growing plants, a literal gingerbread witch, a regular boy turned ghost-hunter, and a family that proves that love never dies!
Once Upon a Family

by

AMANDA RAWSON HILL

. Alone in a new town with a new stepdad and brother that her mom doesn't seem to notice make her miserable, 11-year-old Winnie feels stuck. When Winnie makes a hasty wish one night, she's led to a strange oak tree that conceals a nest of golden eggs with wishes inscribed on the shells. After Winnie accidentally breaks two of the eggs, the wishes come true. Winnie's determined to get her old life back and begins sneaking back to the tree to grant her own wishes. But when she realizes the wishes are coming true in unexpected and terrible ways, Winnie must find a way to fix everything...

Grave Mistakes

 by

KITTY CURRAN. 

Molly's mom and twin brother Marty were killed in a freak accident... except Mom and Marty are still very much present. No one knows why, but Mom is now a ghost and Marty is a poltergeist. Oh, and there's also Molly's younger sister Dyandra, who is a zombie. Keeping all this supernatural stuff a secret from everyone is hard work, especially when the dead (undead?) members of the family still want to 

participate

 in things like the Parent Teacher Association meetings! When Marty begins to regain his memories of the explosion that killed him and Mom, the twins realize that someone might be after the Dade family — but who? And why?

Where the Lockwood Grows

by

OLIVIA A. COLE

. Twelve-year-old Erie lives in a town where lockwood, a plant that cannot burn, grows incredibly fast and blocks out the sun, and so must be cut back every morning. But one evening, Erie uncovers a shocking secret that leads her to question the rules of Prine. Alongside her older sister, Hurona, she'll journey from the only home she's known and realize that the world is much more complicated than she'd ever imagined.

The Unsleeping Witch

by 

ALEXANDRA OVERY. 

Maud may be made of gingerbread — plus a spark of magic — but she's a real witch! Even if she might have accidentally unleashed the hundred year old sleeping curse that envelopes a princess's bramble-covered castle. Oops. Now, Maud has to fix this. But it won't be easy to find the sleeping princess's true love, and the curse might end up being the least of their problems…

Gallowgate 

by

K. R. ALEXANDER. 

Sebastian Wight is cursed. As a boy with the forbidden ability to traverse the lands of the dead, he must not only harness his newfound powers to fight the monster that stalks him, but also to navigate a creepy world of hunting ghosts and ghouls with his eccentric classmates. When his deadly family history brings him to the halls of Gallowgate Academy, Sebastian soon finds that while fighting the dead might be hard... it's dealing with the living that may bring him down!
Sunday, September 17th at 4PM EST via
Crowdcast
!