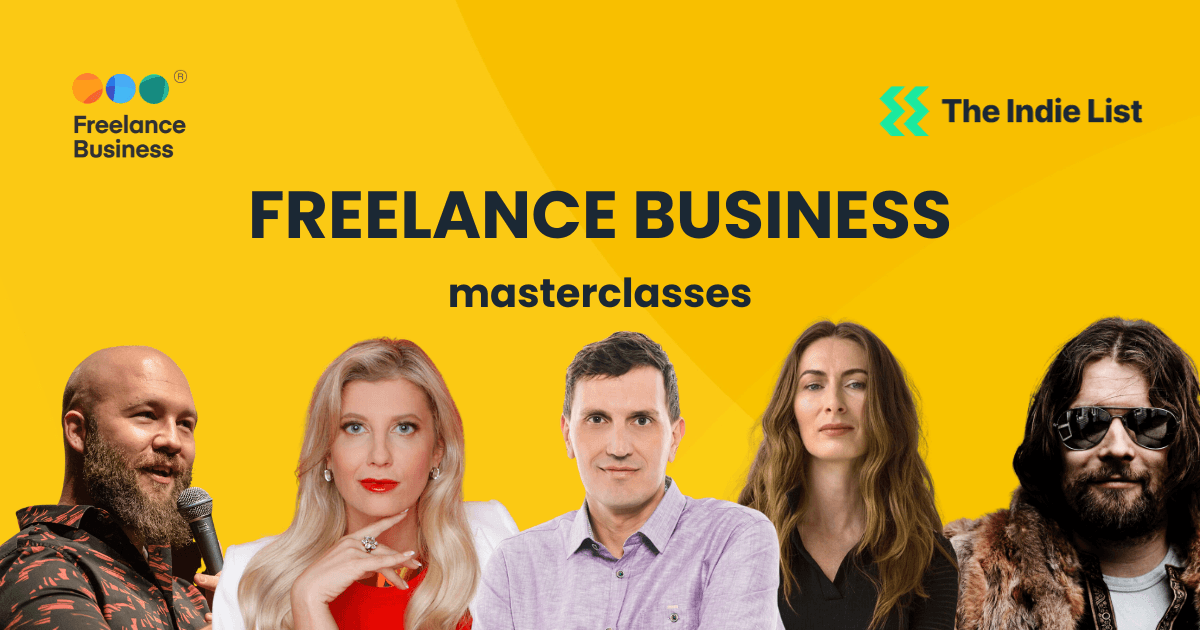 Freelance Business Masterclasses with The Indie List
By Freelance Business Community
Welcome to the Freelance Business Masterclass channel, where, together with our partners at The Indie List, we will talk about the matters and subjects which are so dear and near to every freelancer.
Each session will have an expert presenter and in 60 mins you will get a boost of inspiration, new contacts, ideas, tools and tricks to action in your daily freelance business.
In the coming months, we have planned the following sessions for you:
April 13, 18:00 CET -

The Six Pillars of 6-Figure Freelancing: Value of Life per Hour Mastermind Session with Tom Kozacinski

(You can watch the replay)
May 11, 18:00 CET

- Boost Your Close Rate by 500% with High-End Consulting Clients with Angelique Rewers

(You can watch the replay)
June 8, 18:00 CET -

Master the Art of Outranking Your Competitors on Google with Micro-SEO Strategies℠ with Chris Raulf

(You can watch the replay)
August 10, 18:00 CET -

Game Changers - Freelance Business Masterclass with Robert Vlach

(no replay available)
September 14, 18:00 CET

- Playful Productivity: How to get more done in less time while having fun with Claus Raasted
October -

Freelance Business Month - don't miss the biggest event for freelancers.
Do you have a topic in mind, or would you like to join as a speaker? Contact Elina Jutelyte
The Indie List
is a platform for freelance marketing and creative talent in Ireland. Founded in 2020 by Una Herlihy and Peter McPartlin, The Indie List has become the go-to platform for businesses seeking the best freelance talent in the marketing and creative industries. With a commitment to quality and excellence, The Indie List has established itself as a leader in the Irish freelance talent market and recently received the first global "Trusted Talent Platform"
Award from Open Assembly.
Una has worked with some of Ireland's leading ad agencies, facilitating a continuous cycle of
ideation and creation for some of the world's biggest brands. She set up a successful consultancy in 2005 to help client and agency teams create strong and high performing relationships.
Úna established The Indie List in July 2020 with her former agency colleague from BBDO, Peter McPartlin, as an initiative to help find sustainable work for freelance marketing talent during the Covid-19 pandemic. It has since developed into a thriving community of creative, digital, marketing and tech experts that are much sought-after by Irish enterprises.
Peter has worked as a media and advertising strategist with Ireland's largest agencies and media companies, and on many of the country's best-known brands. His work has received a variety of accolades, including three All Ireland Marketing Gold awards and two
effectiveness awards. Peter was CEO of Today FM and led the station to become 'National Station of the Year'. As well as consulting with several media bodies, Peter is a non-executive chairman of the digital
media platform, BuyMedia.
In early 2020, Peter joined Úna to develop The Indie List as the Irish hub for a broader range of marketing talent.
Founder of the
Freelance Business Community 
and the producer of the first
Freelance Business Month
- a month-long conference for freelancers that is taking place each year in October.
She is also a senior event marketing and operations executive with almost 20 years of experience in B2B and association event management. She is a former president of Meeting Professionals International (MPI) in Belgium, the largest meeting and event industry association worldwide, and an event marketing and technology consultant at Endo-Exo, an online event agency helping organisations with event strategies, operations and marketing in the digital space.
Join our social media channels
Subscribe to our Freelance Business Digest for more news and invitations.
We look forward to seeing you!
hosted by

Freelance Business Community