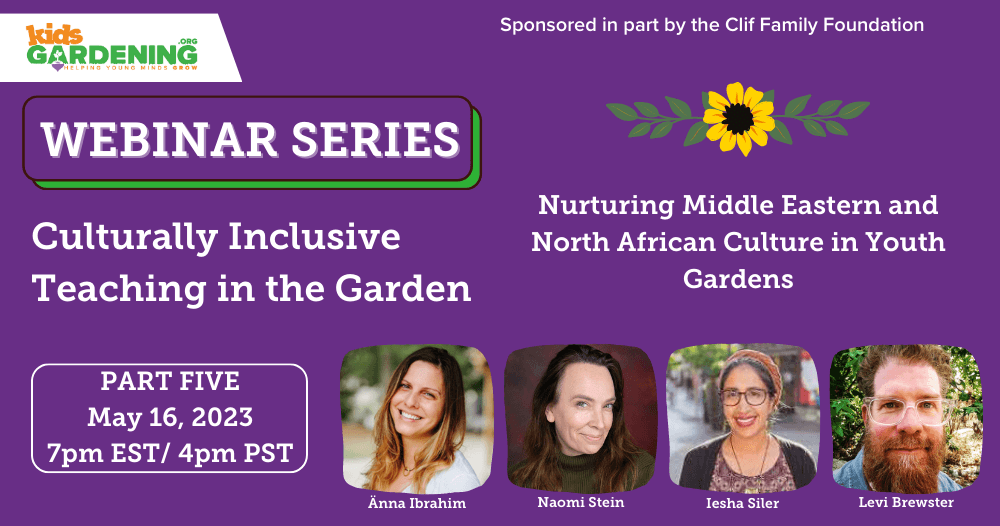 Nurturing Middle Eastern and North African Culture in Youth Gardens
By KidsGardening
By their nature, gardens embody diversity. Garden education is increasingly recognized as an interdisciplinary approach that integrates academic goals, health and wellness, place-based education, and community connections and relationships. However, discussion of culture is often missing in garden-based education. To validate and celebrate the interests and experiences of our students, we will delve deep into the significance of culture as it relates to food and gardens and also as it relates to the diverse populations with whom we work.
Join us as we explore ways to celebrate and center culture through garden-based learning.
This series is made possible by a sponsorship from the Clif Family Foundation and contributions from folks like you.
Änna Ibrahim
serves as Executive Director for Shalom Farms in Richmond,VA. She is honored to be a part of the work of Shalom Farms and the broader Richmond food access community. Prior to her move to Virginia, Änna worked in progressive faith advocacy and direct service organizations in Washington, DC, where she designed new programs and facilitated key organizational processes, including embedding a racial equity lens into program development, strategic planning, and org-wide visioning. Änna holds a BA in Middle Eastern Studies from Hamline University and a MBA in Design Strategy from the California College of the Arts. As a descendant of farmers, she loves digging in the dirt. As a Palestinian, she loves shakshukah and shawarma in the majority of their interpretations. Outside of work, you can find her relishing the newfound joy of a porch sit with her husband in Brookland Park.
Naomi Stein
is a culture keeper, researching, studying and teaching about Jewish Ethnobotany. She worked for the Lawrence Hall of Science, U.C. Berkeley's public science center, for close to two decades, leading environmental education, theatre and science programming, funded by the National Science Foundation, the State of California and the National Institute of Health (among scores of others). Her work has been published by the University and WestEd. As a Backcountry Programs Director, she led over 1,000 youth through the Sierras and California coast.
Naomi taught Biblical Ethnobotany at the Berkeley Jewish Community Center with Dr. Jonathan Siedel in the '90's and is co-teaching Jewish Ethnobotany with him in 2023 through the Aquarian Minyan. You can also find her teaching this year at Urban Adamah and both of the Women's Herbalist Symposium sessions. She has led Havdalah hikes for Temple Sinai and Kehilla Synagogue as well as Native plant walks for public and strike schools, taught challah baking classes and organized a family friendly counter-protest to the Nazi's Bay Area visit. In addition to teaching, Naomi is currently the balebusta for her family of four, maintaining health through eco-kashrut meals and
medicines. If there are words in this bio you don't recognize, but you are curious about, she warmly welcomes you to her classes. You are welcome to reach out to her directly at [email protected].
Iesha Siler
is a public health advocate, currently pursuing a Doctorate in Public Health at Loma Linda University. She holds a B.S. in Public Policy, Planning and Development from USC and a Masters in Public Health from Columbia University. During her tenure at the LA Food Policy Council, Iesha led various initiatives, including establishing universal CalFresh/EBT access at farmers' markets and implementing Urban Agriculture Incentive Zones in LA City and LA County. Iesha actively contributes to her community through her service on the New Horizon Pasadena School Peace Garden Committee, the City of Pasadena Environmental Advisory Commission, Arlington Garden Board of Directors, and Food Forward's Advisory Council. She resides in her hometown, Pasadena, with her husband and three children.
Levi Brewster
is the Learning Naturalist at New Horizon School in Pasadena, CA. Levi has been working in community to restore and heal land relationships in Southern California for over 20 years. They work with schools, libraries and other public organizations as an educator, gardener, and designer. Levi has learned from local indigenous communities, trained with Life Lab and Occidental Arts + Ecology Center in garden education, studied with The Permaculture Academy and is a certified CA Naturalist. Their work is centered in supporting healthy relationships among people and the living earth.
hosted by

KidsGardening