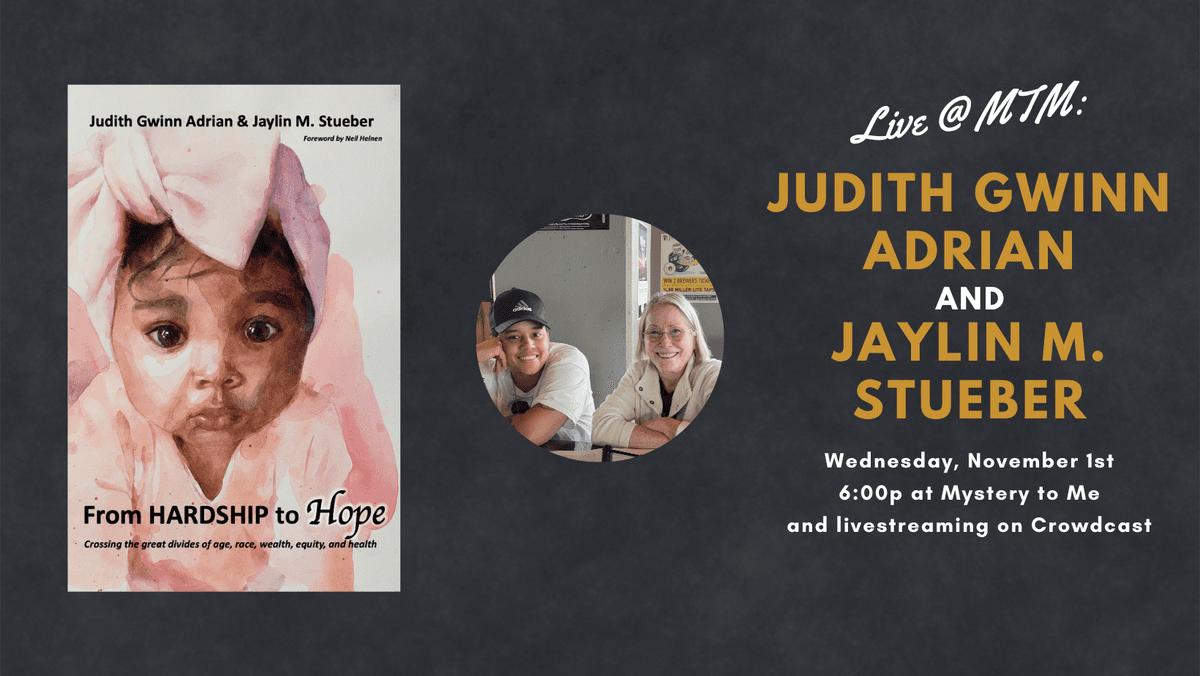 Livestream: Judith Gwinn Adrian & Jaylin M. Stueber
By Mystery to Me
The authors will be in conversation with April Kigeya.
From Hardship to Hope
invites us to walk into the complexities of two women's parallel universes. It is a fictionalized, shared autobiography. Some of the moments and experiences come from Jaylin's and Judith's lives. Some do not.
Ruby Blue, a pregnant, homeless, Black teen is temporarily housed with Zoe, a White, olding widow, as Covid-19 interrupts their lives.
The daily pace has slowed and after a stormy start, Zoe and Ruby Blue begin to build trust, sharing increasingly insightful life experiences as they stay together. Zoe knows her world through books and travel. Ruby Blue knows her world through life on the streets.
At the same time the pandemic slows the pace of life, the Black Lives Movement roils out of the unrest and the inequalities -- laid bare by Covid-19 -- showcasing disparities in job prospects, educational possibilities, housing opportunities, health care access, and civic violence. The women struggle with these realities.
Over time, Zoe and Ruby Blue share their stories. And some secrets. They talk about family differences in favorite foods, hair styles, skin care, and history. (The women have the same last name, with different spellings.) Then, carefully, yet often bluntly, they compassionately move to discussing tough topics. Race. Age. Gender. Poverty. Healthcare. Pregnancy. Adoption. Protesting. Policing. Incarceration. Death. Trust. Love.
Singer, H.E.R. raises the question of how people can look at exactly the same event or entity and come away with opposite views. She asks, can the killer and the protector be the same person, an idea the women deliberate.
From Hardship to Hope
challenges us to consider where our -- often strongly held -- different beliefs and assumptions about reality come from.
How did each of us learn to see the world as we do? Zoe clings to her heritage through her grandmother's sugar bowl and striped chair. Ruby Blue pulls her man's blue hoodie tightly around her distended belly.
How do we dare to question these realities we so strongly believe? Ruby Blue's lived experiences tell her to fear the police – the pigs as she calls them. Zoe tells of the time a police officer saved her from a predator, to which Ruby Blue asks, why did you call him a predator?
How do we come to see that our understanding is ultimately subjective; that other people authentically experience different realities? Hold different truths. The women's experiences of giving birth – objectively the same event -- could not have been more divergent.
And then, ultimately, what do we do with this knowledge? How do we come away with hope?
Judith Gwinn Adrian, co-author. During the Covid pandemic, I read more about racial differences and created the basic outline for
From Hardship to Hope
, but recognized I could not honorably complete the book alone. I needed a strong co-author. Jaylin Stueber! We met through an online Circle of Support for returning prisoners where I learned she had the lived experience and passion to bring Ruby Blue's character to life, as I did with the Zoe character. We are a team.
My academic background includes two degrees in English and my Ph.D. in adult learning. After working for four years, through the University of Wisconsin-Madison, on a Kellogg Foundation Leadership Program with my major professor, Jerold Apps, I taught at Edgewood College, Madison, for 25 years. My course topics ranged from diversity to prison reform to initiating change to hospice. Each class was built on integrated studies and civic involvement, usually in local challenged communities.
Since retirement, in 2019, I have co-written or edited ten memoirs and books, working with Kira Henschel, HenschelHAUS Publisher, Milwaukee.
I am forever grateful for all of these life transforming relationships.
hosted by

Mystery to Me