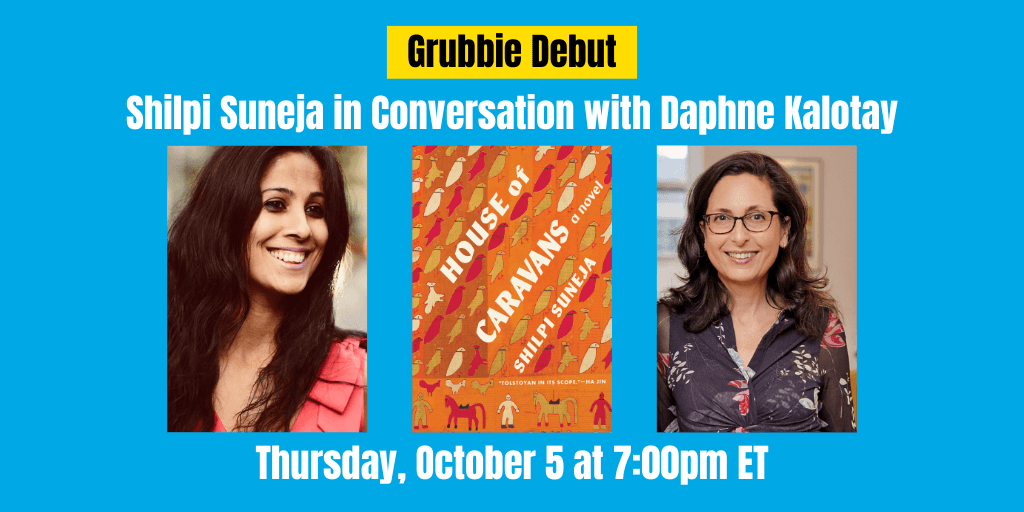 Grubbie Debut: Shilpi Suneja, author of House of Caravans, in conversation with Daphne Kalotay
By Porter Square Books
Porter Square Books: Boston Edition 
and 
GrubStreet 
are delighted to present the latest installment of the Grubbie Debut event series, featuring 
Shilpi Suneja,
author of 
House of Caravans
! Prize-winning author 
Daphne Kalotay 
will join the author in conversation. This event will take place on 
Thursday, October 5 at 7pm at Porter Square Books: Boston Edition 
(50 Liberty Dr. Boston, MA 02210).
A marvelous debut novel exploring the fractures caused by the Partition of India, as well as the legacy and contemporary parallels of sectarian violence around the world.
Lahore, British India. 1943. As World War rages, resentment of colonial rule grows, and with it acts of rebellion. Animated by idealistic dreams of an independent India, Chhote Nanu agrees to plant a bomb intended for the British superintendent of police. Some four years later, following a torturous imprisonment, Chhote flees the city as it descends into violence. Carrying the young son of his murdered wife through scenes of unspeakable bloodshed, he encounters his brother, Barre Nanu, the two of them caught between a vanishing past in the new nation of Pakistan and a profoundly uncertain future in India.Kanpur, India. 2002. Following the death of his grandfather, Barre Nanu, Karan Khati returns from New York to join his sister in their childhood home, which has been transformed by the embittered Chhote Nanu into a hostel for Hindu pilgrims. When their mother arrives from Delhi, Karan and Ila learn that their fathers were two different men--one Hindu, one Muslim--relationships with both of whom were doomed by familial bias and prejudice, the siblings resolve to reconnect, and to understand the painful twist and turns in the family's story.Moving back and forth from the tumultuous years surrounding Partition to the era of renewed global sectarianism following 9/11, this extraordinary historical novel, "Tolstoyan in its scope" (Ha Jin), portrays a family and nations divided by the living legacy of colonialism. Richly evocative and timely, House of Caravans will endure in the ways only the best literature does.