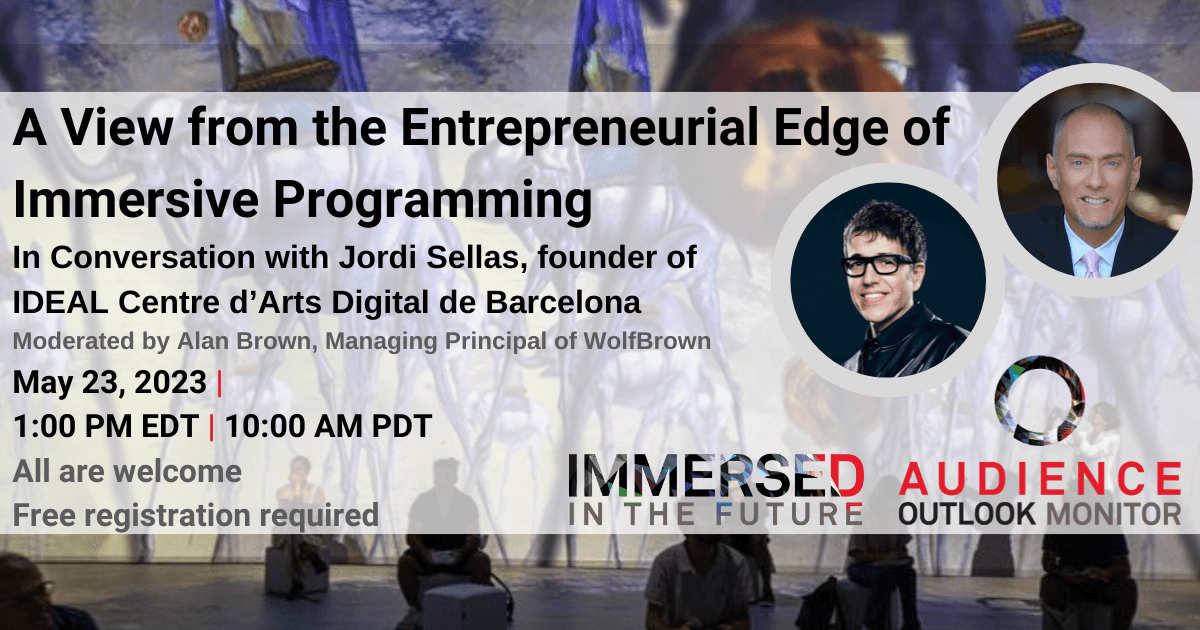 A View from the Entrepreneurial Edge of Immersive Programming
By Audience Outlook Monitor
Unlisted
This one-hour webinar is a joint activity of the
Audience Outlook Monitor community
and
Immersed in the Future
, WolfBrown's community of practice designed to support nonprofit arts organizations as they navigate the complex programmatic space of augmented, immersive, and virtual experiences.
We'll discuss the opportunities and challenges of programming in the immersive space with the Director of IDEAL (Barcelona), Jordi Sellas I Ferrés. In 2019 Sellas converted a historic cinema in Barcelona into one of the world's leading digital cultural centers and now tours his immersive programs around the world. Alan Brown, Managing Principal at WolfBrown, will moderate.
Check out the IDEAL website in advance, and bring your questions for Jordi!
Jordi Sellas I Ferrés

, Director of IDEAL, Barcelona

Alan Brown

, Managing Principal, WolfBrown (moderator)
Jordi Sellas I Ferrés
will join us online as a guest speaker for the seminar. He is the current director of
IDEAL
, the Digital Arts Center of Barcelona. He presented featuring a live immersive concert called "
Dalí – The Thinking Machine
." Other immersive productions included
MAD Madrid
,
Frida Kahlo: The Immersive Biography
,
Klimt: The Immersive Experience
, and
Next to Normal Immersive
. These projects illustrate a growing trend of digital cultural centers as venues for concerts, allowing for new levels of creative exploration of music and art. He has held the position of Director General for Creation and Cultural Industries at the Government of Catalonia.
Alan Brown
is a leading researcher and management consultant in the arts and culture sector worldwide. His work focuses on understanding consumer demand for cultural experiences, evaluating support structures for the arts, and helping industry leaders make informed decisions and respond to changing conditions. He has conducted studies for various cultural organizations and authored research reports for foundations and agencies. He also developed the CultureLab website and chaired the Cultural Research Network. He recently worked on the Audience Outlook Monitor COVID-19 Study, a longitudinal analysis of audience attitudes about attending cultural events during the pandemic, involving over 650 organizations worldwide. In the coming years, he will focus on guiding arts organizations through the research and development process toward new product lines in digital, immersive, and virtual spaces.
hosted by

Audience Outlook Monitor