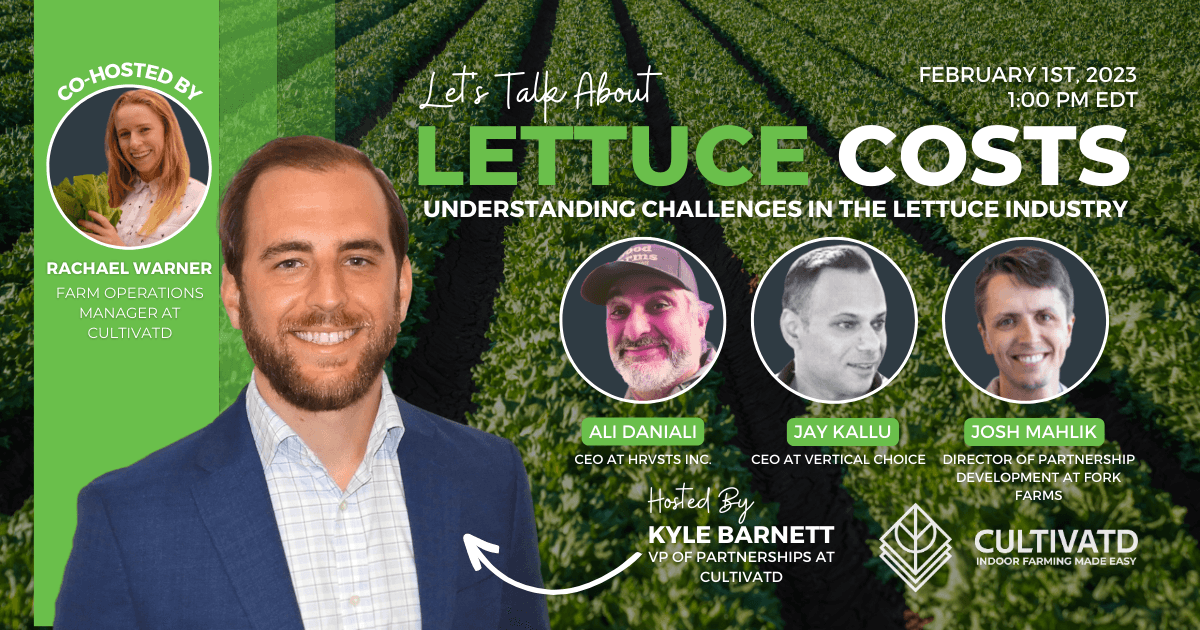 Lettuce Costs - Understanding Challenges in the Lettuce Industry
By Cultivatd - Indoor Farming Made Easy
Some consumers are attributing the rising cost of lettuce to inflation. This assertion is misguided. In fact, soaring salad prices have been the result of extensive crop losses in the "lettuce bowl of the world" (Salinas Valley, USA) and the produce shortages that followed. To be more specific, many salad crops are being lost to diseases; namely Pythium wilt and impatiens necrotic spot virus (INSV).
We have assembled industry experts to identify the challenges facing lettuce producers, and discuss what influences the price of lettuce. Additionally, our guests will collectively identify indoor farming technology and solutions that can help lettuce farmers overcome their tribulations and ultimately promote food security.
This webinar is hosted by
Kyle Barnett, VP of Partnerships at
Cultivatd
.
Our guest experts for this event are:
Ali Daniali - Founder and CEO at
HRVSTS
Ali Daniali is a highly-accomplished executive with a diverse background in technology, agriculture, and development. He serves as a Leadership Council Member on the Controlled Environment Agriculture Leadership Council for the International Fresh Produce Association.
Jay Kallu - CEO at
Vertical Choice
Jay Kallu has more than three decades of experience in the food industry, specializing in fresh produce. Jay began as a grower/shipper of fresh produce to the retail and foodservice industries in Canada, and then expanded offerings into the USA and the UK. Eventually, Jay settled back in Canada to spend over 10 years with a National Food Service Distributor as the Senior Category Analyst for Produce.
Josh Mahlik - Partnership Development Director at
Fork Farms
Josh has a passion for innovative design, experiential learning, sustainability, and health. Prior to joining Fork Farms, Josh managed laboratory, facility identification, and water filtration product lines for Brady Corporation and Pentair.
hosted by

Cultivatd - Indoor Farming Made Easy