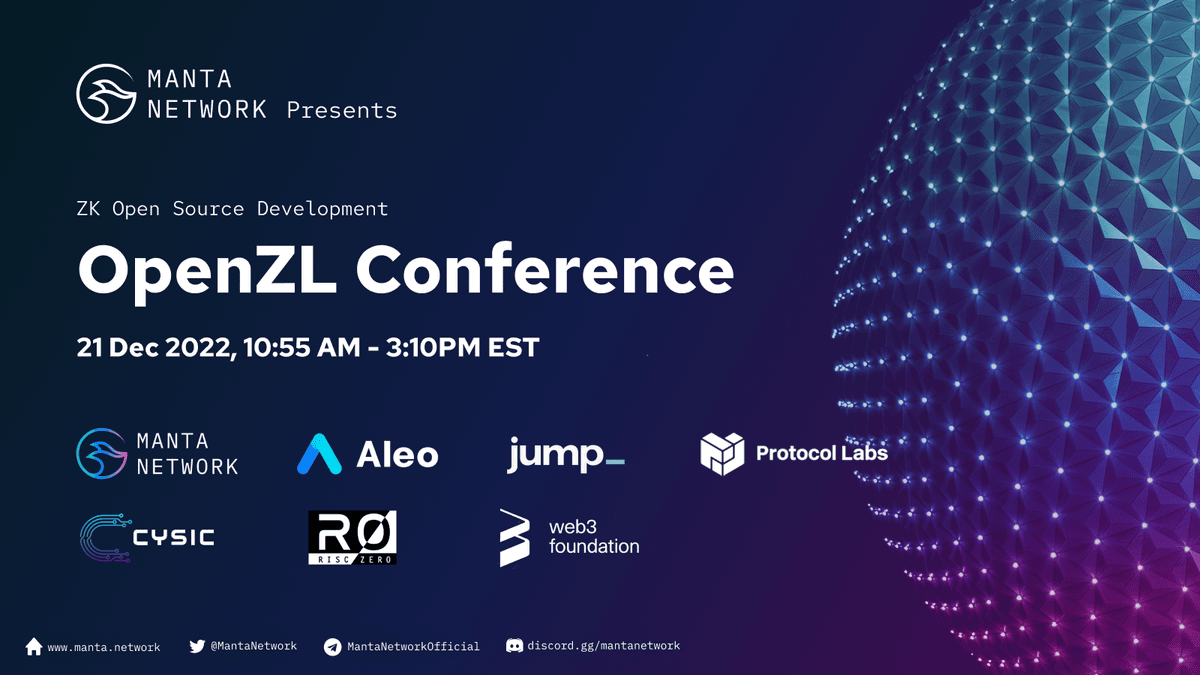 OpenZL Conference
By Manta Network
About the OpenZL Conference
We welcome you to join us for the first OpenZL Conference. OpenZL is an open-source library for more accessible ZKP. It is a collaborative effort push forward by the collective ZK community, led by Manta Network. We're proud to bring this ZK community together for the first inaugural OpenZL Conference, which hosts discussions that push the envelope of ZK innovation.
- Bowen Huang, Cofounder & CTO at Cysic
- Brian Retford, CEO at RISC Zero
- Brandon H. Gomes, CTO at Manta Network
- Eduardo Morais, Research Engineer at Protocol Labs
- Pratyush Mishra, Chief Scientist at Aleo
- Jeff Burdges, Applied cryptographer and mathematician at Web3 Foundation
- Todd Norton, Applied Cryptographer at Manta Network
- Sebastien La Duca, Cryptography Researcher
- Shumo Chu, Cofounder at Manta Network
- Wei Dai, Cryptography Researcher
- Rahul Maganti, Jump Crypto
More Info about the sessions is coming soon. Stay tuned on @MantaNetwork twitter for details.
#OpenZL is an initiative that we started at @MantaNetwork to make it easier for devs who aren't cryptography experts to build zero-knowledge proofs into their applications. The goal is to make ZKP accessible not just to cryptographers but to all developers.
Manta Network is committed to building a better Web3 world through privacy protection. Manta's product design starts from first principles and provides end-to-end privacy protection for blockchain users through leading cryptography architectures such as zkSNARK. While ensuring privacy, Manta offers interoperability, convenience, high performance, and auditability, allowing users to conduct private transfers and transactions between any parallel chain of assets. Manta's vision is to provide more convenient privacy protection services for the entire blockchain world.
Linktree: https://linktr.ee/mantamari