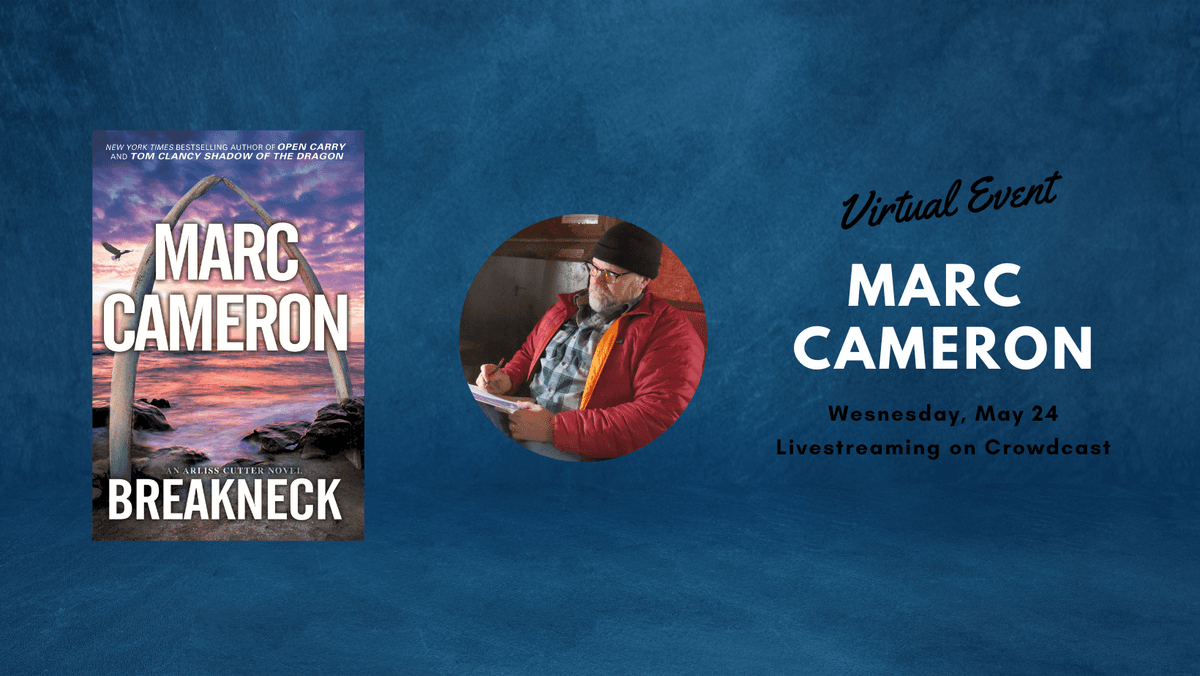 Livestream: Marc Cameron
By Mystery to Me
What would you do to save the most important person in the world?
On a trawler headed back towards the Bering Sea, the captain and crew of a crabbing vessel are brutally murdered by a young member of Bratva, the Russian mafia, their bodies stuffed into massive crab pots and thrown overboard. The boat is scuttled in a remote bay, and the murderer meets up with more powerful
members of the mob to continue their violent and audacious plan. In an act of vengeance, they plan to livestream the execution of a Supreme Court Justice, at that moment headed towards Alaska.
At their Anchorage HQ, Deputy US Marshals Arliss Cutter and Lola Teariki are assigned to security detail at a judicial conference in Fairbanks, where Justice Morehouse will be in attendance. Teariki is tasked with guarding Morehouse's teenaged daughter while Cutter provides counter-surveillance. This simple assignment becomes more complex after mother and daughter opt to travel on the famous Glacier Discovery train, that traverses the Alaskan wilderness. Hiding onboard are members of Bratva, who launch a surprise attack. While they seize control of the engine, Cutter manages to escape with Justice Morehouse by jumping off the moving train—and into the unforgiving wilderness.
With no supplies and no connection to the outside world, Cutter and the judge must cross a treacherous terrain to stay alive. Two of the terrorists are close behind. The others are on the train with the judge's daughter—and they plan to execute her on camera. With so many lives at stake, Cutter knows there are only two options left: catch the train and kill them all . . . or all will be killed.
Tense, electrifying, and otherworldly, sweeping from the frigid waters of Anchorage to the banks of the Arctic Ocean, BREAKNECK barrels towards its shocking finale like a locomotive barreling through the wilderness.
New York Times
and
USA Today
bestselling author Marc Cameron, a native of Texas, has
spent over three decades in law enforcement. He is the award-winning author of the Arliss Cutter and the Jericho Quinn series, as well as the Tom Clancy Jack Ryan, Sr. books, starting with
Power and Empire
in 2017, and most recently,
Red Winter
in 2022. Early in his career, he served as a uniformed police officer, mounted (horse patrol) officer, and detective before accepting a position with the United States Marshals Service and serving as a Deputy, Fugitive Task Force Commander, Supervisory Deputy, Senior Inspector, and Chief. His assignments have taken him from rural Alaska to Manhattan, from Canada to Mexico and points in between. A second-degree black belt in jujitsu, he often teaches defensive tactics to other law enforcement agencies and civilian groups. Cameron presently lives in Alaska with his wife and his BMW motorcycle.
hosted by

Mystery to Me