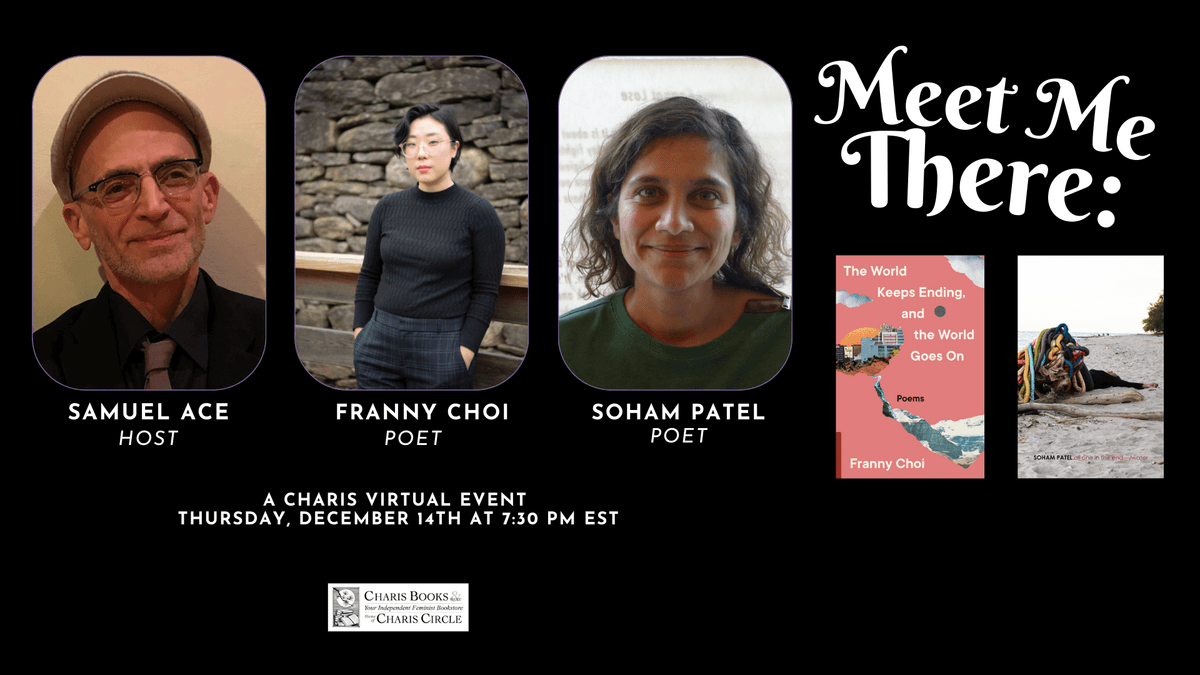 Meet Me There: Featuring Franny Choi and Soham Patel
By Charis Books and More/Charis Circle
"Meet Me There" is a monthly intergenerational poetry, fiction, and creative non-fiction experience curated by trans/genderqueer poet and sound artist Samuel Ace. Writers exploring genre and gender boundaries will be a special focus of this series.  Most months, Samuel pairs an established or mid-career artist with an up and coming writer for a reading by each artist and a discussion of the resonances between their works. However for this event, we have paired two established writers with ties to Georgia. Franny Choi is an Atlanta native who now resides in the northeast, and Soham Patel is assistant editor at the Georgia Review.​​​​​​​ Writers exploring genre and gender boundaries will be a special focus of this series. This event takes place on the second Thursday of each month at 7:30pm ET. Some months our readings will take place at Charis Books with an option to watch virtually, and some months the event will be fully virtual, so be sure to check the listing!
December's featured poets are Franny Choi and Soham Patel in celebration of their books,
The World Keeps Ending, and the World Goes On
, a poetry collection for the ends of worlds—past, present, and future and 
All One in the End--/Water.
Franny Choi 
is a poet & essayist. Their books include 
The World Keeps Ending, and the World Goes On
(Ecco/HarperCollins, 2022), 
Soft Science
 (Alice James Books, 2019) and 
Floating, Brilliant, Gone
 (Write Bloody Publishing, 2014). Her writing has appeared in 
the New York Times, the Atlantic, the Paris Review, 
and elsewhere. A recipient of the Lily/Rosenberg Fellowship,Princeton's Holmes National Poetry Prize, and the Elgin Award, Franny is Faculty in Literature at Bennington College and the founder of Brew & Forge. They are at work on an essay collection about Asian robot women, forthcoming from Ecco.
Franny Choi's third book features poems about historical and impending apocalypses, alongside musings on our responsibilities to each other and visions for our collective survival. Many have called our time dystopian. But 
The World Keeps Ending, and the World Goes On 
reminds us that apocalypse has already come in myriad ways for marginalized peoples.
Soham Patel
is an assistant editor of the 
The Georgia Review
, where she also manages the book review section. She is the author of four chapbooks of poetry, including and 
nevermind the storm
 and 
New Weather Drafts
, both from Portable Press @Yo-Yo Labs. She has also authored the full-length collections 
to afar from afar
 (The Accomplices, 2018), 
ever really hear it
 (Subito Press, 2018), winner of the Subito Prize, and 
all one in the end—/water
 (Delete Press, 2023). Patel is a Kundiman fellow and a poetry editor at 
Fence
. She holds an MFA in poetry from the University of Pittsburgh, an MA in English from Western Washington University, and a PhD in creative writing from the University of Wisconsin in Milwaukee where she served for four years as a poetry editor at 
Cream City Review
.
While it critiques capitalism, empire, and settler colonialism, ALL ONE IN THE END--/WATER also offers a record of complicities acknowledged and responsibilities taken. Its gracious pages honor the fluid bonds of sexuality and family, friendship and care, culminating in the kind of wild hopefulness only poetry can offer."--Brian Teare
Samuel Ace is a trans/genderqueer poet and sound artist. His most recent books are 
Our Weather Our Sea 
(Black Radish), 
Meet MeThere: Normal Sex & Home in three days. Don't wash
. (Belladonna* Germinal Texts), and the chapbook 
What started / this mess 
(above/ground press). Ace is the recipient of the Astraea Lesbian Writer Award and the Firecracker Alternative Book Award in Poetry, as well as a repeat finalist for both the Lambda Literary Award and the National Poetry Series. Recent work can be found in 
ex-Puritan
, 
POETRY, We Want it All: An Anthology of Radical Trans Poetry, PEN America, Best American Experimental Poetry
, and many other journals and anthologies. A book-length poetic essay, 
I Want to Start by Saying
, is forthcoming from the Cleveland State University Poetry Center (2024).
This event is free and open to all people, especially to those who have no income or low income right now, but we encourage and appreciate a solidarity donation in support of the work of Charis Circle, our programming non-profit. Charis Circle's mission is to foster sustainable feminist communities, work for social justice, and encourage the expression of diverse and marginalized voices. https://donatenow.networkforgood.org/CharisCircle?code=chariscirclepage
Please contact us at [email protected] or 404-524-0304 if you would like ASL interpretation at this event. If you would like to watch the event with live AI captions, you may do so by watching it in Google Chrome and enabling captions: Instructions here. If you have other accessibility needs or if you are someone who has skills in making digital events more accessible please don't hesitate to reach out to [email protected]. We are actively learning the best practices for this technology and we welcome your feedback as we begin this new way of connecting across distances.
By attending our virtual event you agree to our Code of Conduct: Our event seeks to provide a harassment-free experience for everyone, regardless of gender, gender identity and expression, age, sexual orientation, disability, physical appearance, body size, race, ethnicity, religion (or lack thereof), class, or technology choices. We do not tolerate harassment in any form. Sexual language and imagery are not appropriate. Anyone violating these rules will be expelled from this event and all future events at the discretion of the organizers. Please report all harassment to [email protected] immediately.
hosted by

Charis Books and More/Charis Circle