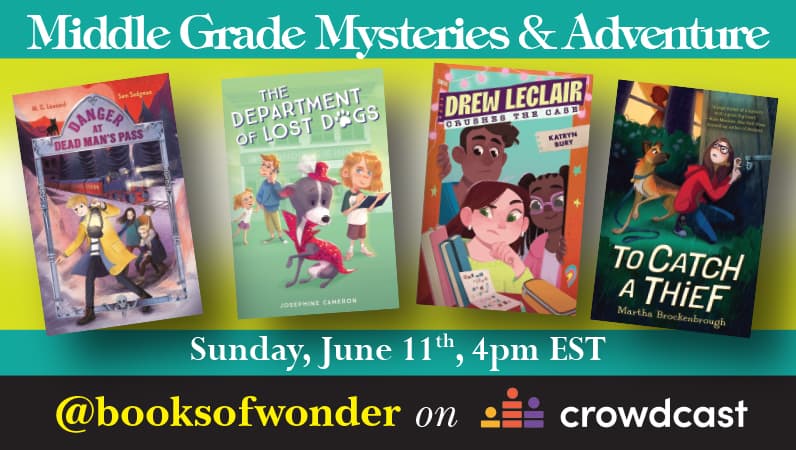 Middle Grade Mystery & Adventure, 06/11/23
By Books of Wonder
Calling All Super Sleuths!
Bring your magnifying glasses and thinking hats to this jam-packed middle grade mystery bonanza! In this middle grade virtual event, we take on cursed German railway tycoons, missing celebrity canines, small town rituals gone awry, and a pernicious locker room thief!
Join us to crack the cases of:
Danger at Dead Man's Pass 

by

M. G. LEONARD

&

SAM SEDGMAN.

Budding railway detective Hal Beck has been invited by the infamous Baron Essenbach to solve a vicious family curse... but curses aren't real — are they?

The Department of Lost Dogs

by

JOSEPHINE CAMERON

. Rondo's small hometown is suddenly over run when a TV crew shows up to film. But when celebrity canines start to go missing, it's up to Rondo and his friends to get to the bottom of it!

To Catch a Thief

by

MARTHA BROCKENBROUGH. 

Amelia's hometown is turned upside down when the dragonfly staff, the source of all Urchin Beach's good fortune is stolen! With only seven days left to the Dragonfly Day Festival, it's up to Amelia to get to the bottom of it and save the town!

Drew LeClaire Crushes the Case

by 

KATRYN BURY

. 

When amateur sleuth Drew LeClaire discovers there's been a thief breaking into the PE lockers and leaving behind cryptic ransom notes, will she be able to stay under the radar like she's promised her parents or will she have to break rules to crack the case?
Sunday, June 11 at 4:00PM EST via Crowdcast!