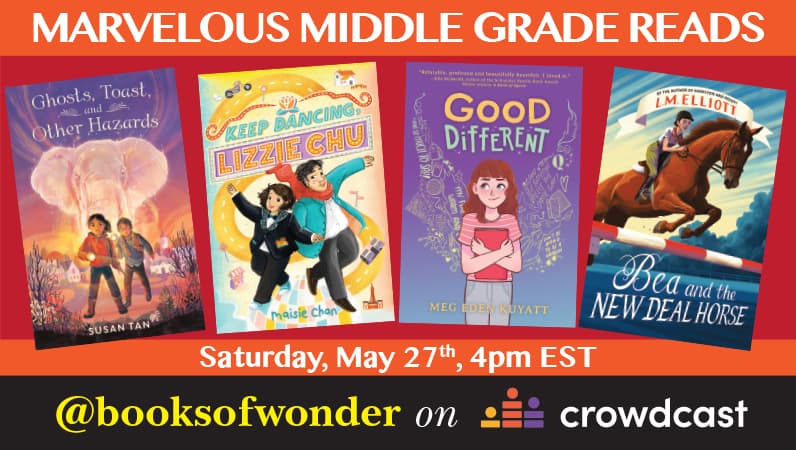 Marvelous Middle Grade Reads - 05/27
By Books of Wonder
Captivating New Middle Grade Novels
Cheerful, charming, and charismatic — this wonderful collection of new middle grade novels feature leading characters you and your young readers are sure to fall in love with!
Tune into this marvelous middle virtual event to meet Mo who tackles disturbing urban legends, Selah who learns to embrace what makes her different, Lizzie who'll do whatever it takes to cheer up her grandpa, and Bea who not only learns the strength of a horse's will, but of her own.
Ghosts, Toast, and Other Hazards 

by 

SUSAN TAN.

Mo has a lot on her mind: she's just moved to a new town, her stepdad has disappeared, and her mom is severely depressed. Suddenly plagued by nightmares where spirits begin attacking her home, Mo knows it's up to her to intervene and protect her family —  in the dreamscape and in reality!

Good Different 

by 

MEG EDEN KUYATT. 

An extraordinary novel in verse about Selah, a neurodivergent girl struggling to fit in at school. When things finally hits a boiling point and Selah explodes at another student, Selah realizes she must learn that being

different

doesn't mean being

damaged

. Now how can she get her school to understand that, too?

Keep Dancing, Lizzie Chu 

by

MAISIE CHAN

. Lizzie Chu has lived with her Wai Gong (grandfather) ever since her parents passed away. But lately he's been acting different and becoming more and more forgetful. To get things back to normal, Lizzie concocts a plan to whisk Wai Gong to the famous Tower Ballroom where he's always dreamed of going. After all, a little road trip never hurt anyone... right?

Bea and the New Deal Horse

by

L. M. ELLIOTT

. This lyrical middle grade historical novel set during the Great Depression from award-winning author L. M. Elliott is a moving tale of the spirit of American persistence, found family, and the magical partnership between girl and horse.
Saturday, May 27th at 4:00PM ET via Crowdcast!