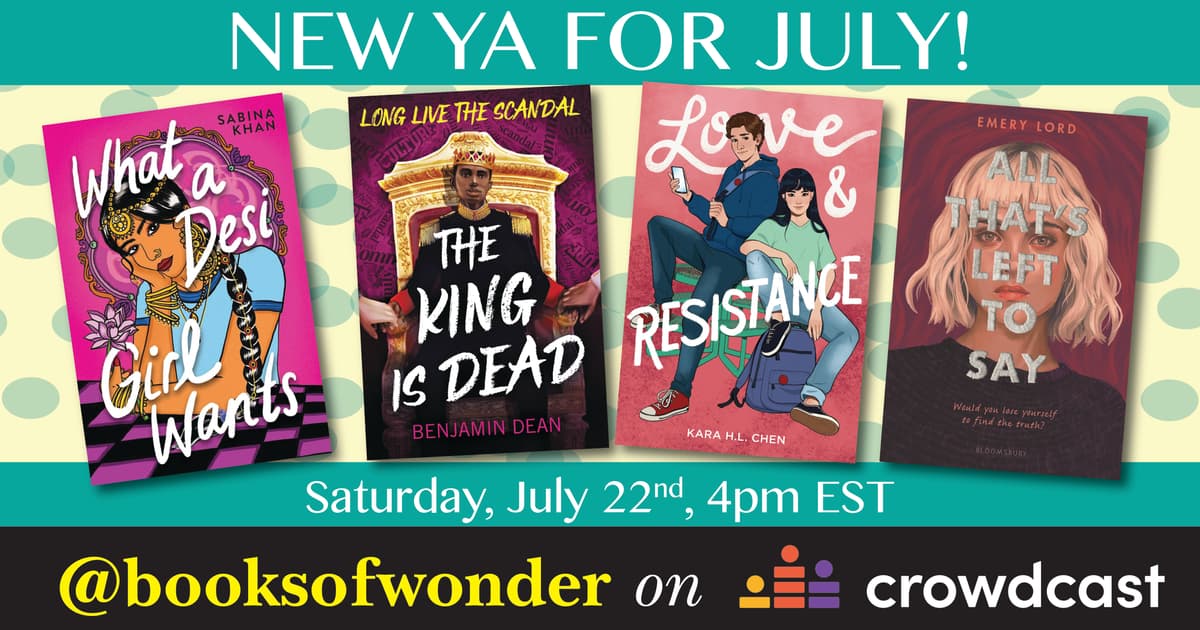 New YA for July!
By Books of Wonder
New and Knockout YA Books!
These titles are something special, full of royalty and resistance, and characters fighting for what — and whom — they love. Sure to grab hold of your attention and not let go!
Love and Resistance

by

KARA H.L. CHEN

. Seventeen-year-old Olivia Chang flies under the radar as a self-preservation tactic. However, when the infamous it-girl Mitzi makes a pointed racist comment in class, Olivia defends herself, and that's the end of her invisible life. Olivia then joins forces with a secret society who has been thwarting Mitzi's reign of terror for months. To succeed once and for all, Olivia must do something even more terrifying than lead a movement: trust other people. She might even make true friends along the way... if Mitzi doesn't destroy her first.

The King is Dead

by

BENJAMIN DEAN

. Heavy is the crown James has been born to wear, especially as the first Black heir to the British throne. But with his father's recent passing, and with a new boyfriend to hide, James is woefully unprepared for the sudden shine of public scrutiny.  When the tabloids expose him and the man he thought he loved suddenly disappears, James finds himself on the precipice of ruin, and the people he trusts the most become the likeliest suspects. What dangers lurk behind the palace walls — and will the new king find out before it's too late?

What a Desi Girl Wants

by

SABINA KHAN

. When Mehar reluctantly agrees to return to India to attend her father's wedding, though she hopes to heal their broken relationship, he still doesn't make the time for her. Yet Mehar barely cares once she meets Sufiya. As they get closer, Mehar

thinks

their friendship is turning into something more. Meanwhile, Mehar can tell that her "new stepmom" and her social media influencer daughter are just using her father for his money. Mehar starts thinking about sabotaging the wedding, but telling her father the truth means putting her relationship with Sufiya at risk...

All That's Left to Say

by

EMERY LORD

. After Hannah's beloved cousin Sophie overdoses, Hannah becomes obsessed with one question: Who gave Sophie those pills? Drowning in grief, she concocts a plan: enroll at her cousin's fancy private school with a new look and a mouthful of lies, and finally uncover the truth. But Hannah didn't expect all the lines to blur.  Now, she must choose to either let herself really mourn Sophie and move on, or see her search through to its explosive end — even if it means destroying herself.
Saturday, July 22nd at 4PM EST!