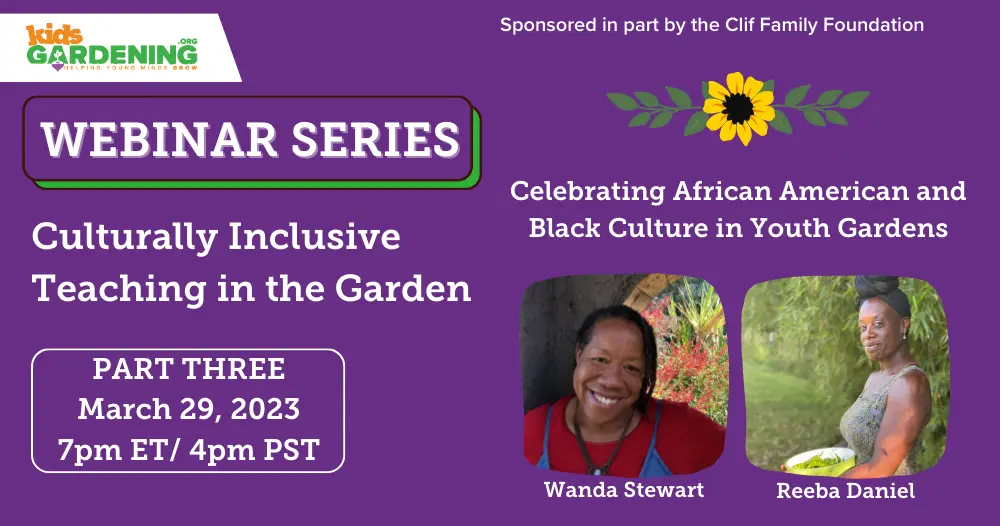 Celebrating African American and Black Culture in Youth Gardens
By KidsGardening
Join us for session three of the Culturally Inclusive Teaching in the Garden series, as educators Wanda Stewart and Reeba Daniel share their work and methods for celebrating and centering African American and Black Culture in youth gardens.
Wanda Stewart
is the Executive Director of Common Vision - an organization doing good at the nexus of education, food, and the environment. Common Vision's work reflects gardens in schools, trees in ground in community, and food to families. Wanda's perspective and work center the needs of disenfranchised communities of color and school children. After many professional years as a school administrator, Wanda defines her roles now as farmer, community organizer, and tree-hugging enthusiast.
Reeba Daniel
is a Black and queer farmer growing mixed vegetables and herbs on Kalapuya land also known as Aloha Oregon. Reeba currently serves as the Farmers Market Fund co-president/ DEIJ chair, Oregon Farm to School and School Garden Network steering committee member, and school garden coordinator. They also serve their community by creating value-added products and in-person community wellness spaces.
As a small child, Reeba was acutely aware of the inequities white supremacy accosts on those most vulnerable. Witnessing or receiving atrocities like racism, gatekeeping resources, and lack of culturally responsive food and education left lasting scars they still work on overcoming today. After job loss and COVID-19, Reeba decided to become a self-care advocate full time producing body care products and culturally specific vegetables to sell at markets. When their child entered their first week of public school, Reeba quickly realized there are still gaps in child and family nutrition. They believe this problem can be solved by a stronger connection with local producers, funding, education, and ongoing support. Keep Growings Seeds is the beginning, a for-profit farm-to-table procurement and education program supported by a growing number of schools and community partners. We currently serve Beaverton and Hillsboro public schools and are expanding into Portland. We provide local food procurement connections and funds, tasting tables, life-based education in the garden, and connecting farmers to grow on school property. KGS also provides access to garden practitioners. Garden practitioners consist of nutritionists, therapists, educators, chefs, and small business producers virtually for 2023 and expanding to in-person in 2024.
hosted by

KidsGardening