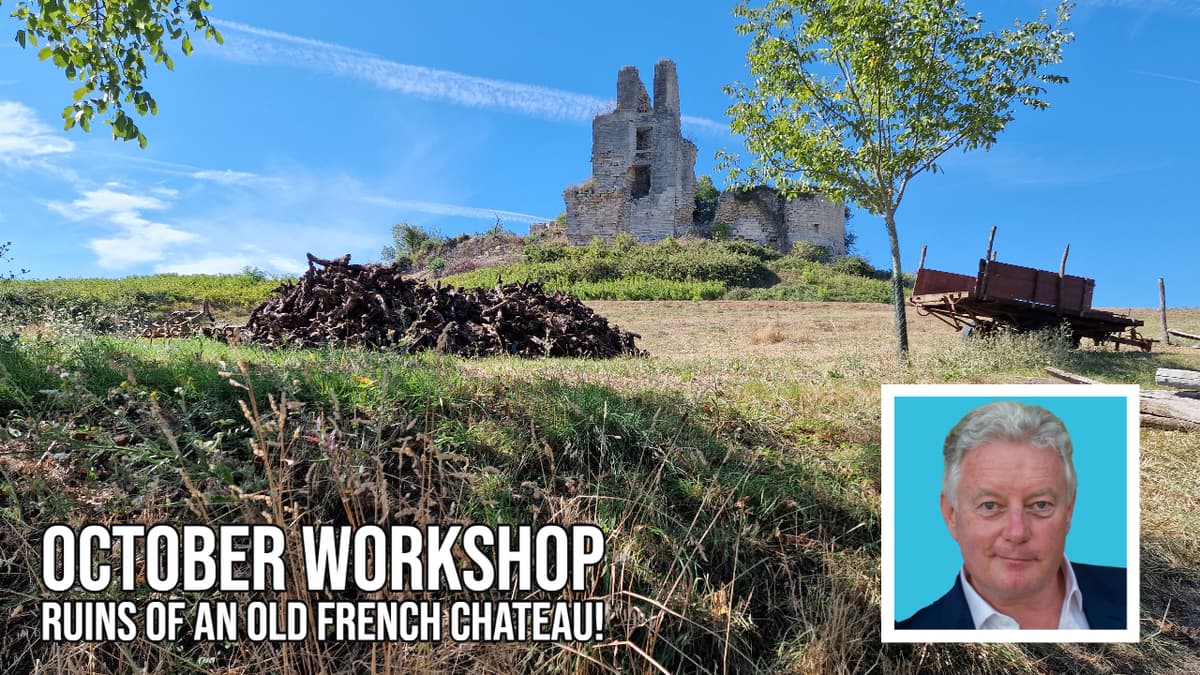 October 2022 Workshop - Ruins of a French Chateau v2
By Tim Wilmot
Improve your watercolor, have a couple of hours fun painting along with Tim Wilmot, and...get a critique!
In this workshop we will be painting the ruins of an old Chateau in South West France - Chateau de Gurson.  A nice and easy one?  (famous last words!)
Live & Online watercolour demo from Tim Wilmot

Step by step demo of the complete painting process

Suitable for painters of ALL levels

Ask me questions (during the live event)

Paint along with me or paint later

Watch the recording as many times as you want!

Can't attend live? No Problem! Register anyway, watch the recording, and send me a photo of your painting for a video critique!
This is the source photo for this workshop:
(You can right-click over this photo to download it now)
In this workshop we will cover
How to think about composition from a photo

Bright trees against a bright sky
This online workshop is
suitable for painters of any level
. It is a demonstration in Watercolor. I go at a slow pace and describe with commentary what I am doing and the techniques I am using. The commentary is in English, and I speak slowly for any attendees where English is not your first language.
All you need to watch and take part is a good/reliable internet connection, and a headphone or PC speakers to hear my audio commentary.
What you will need (apart from paper and water)
A large and medium size mop brush. Small brush for detail work.

Your normal palette of colours (I mainly use, neutral tint, burnt sienna, yellow ochre, viridian green, spring green (or a bright green!), cobalt green, cerulean blue, cobalt blue, ultramarine blue, lavender, alizarin crimson, cadmium red, light red and a cadmium yellow, white paint for highlights). You don't need to use these colours.
Please don't go and buy anything special for this workshop. Just use what your normal brushes, paper and paint.
When you have completed your painting, please take a photo and email it to me as an attachment to [email protected] and I will then be able to give you a critique.
Here is what previous attendees had to say...
"I'd like say just how much I've enjoyed your video demonstrations past and present! You have a wonderful sensibility for watercolour and I know that I've learnt a great deal from your videos, so  thank you so much!"
  John H
"Excellent. Excellent. Excellent. Based on my experience watching your YouTube videos, your online workshop was everything I expected and more"
  Douglas B
"Good pace, good answers to students' questions, efficient use of time, and such a nice relaxed personality, Tim"
  Suzanna B
"Thank you for the wonderful painting experience. I think the timing was perfect for me as I am new to watercolour and enjoyed having the time to attempt keeping up"
  Geri G
"It was very good to be able to hear your thought process as you were completing the painting. Loved being able to see your painting from start to finish"
  Pearl A
hosted by

Tim Wilmot