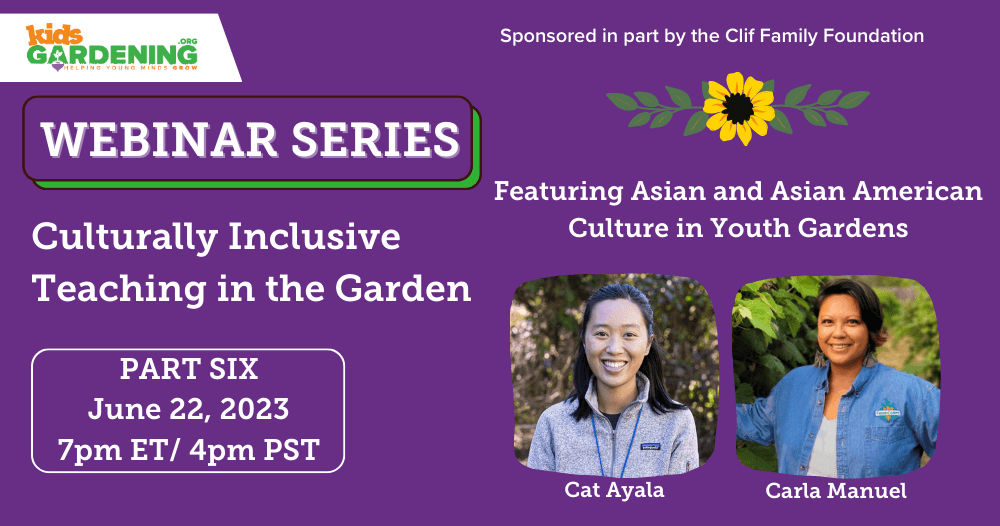 Featuring Asian and Asian American Culture in Youth Gardens
By KidsGardening
Join us as educators Cat Ayala and Carla Manuel of Growing Gardens Portland explore ways to feature Asian and Asian American culture in youth gardens.
This session will be recorded and available for viewing immediately following the live presentation.
Cat Ayala
(she/her) is a second-generation Vietnamese American. Growing up, she spent a lot of time gardening and cooking with her mother. Her childhood encouraged her to study environmental science and work in education and outreach. She enjoyed serving in the Peace Corps and AmeriCorps and is looking forward to building relationships with the community. In her free time, Cat enjoys cooking new recipes, hiking with her husband and pup, traveling to new places, and taking photos!
Carla Manuel
(she/her) is in her second year with FoodCorps as the Growing Gardens Service Member at Scott Elementary in Portland. With a bachelor's degree in culinary arts and management in hand, her career evolved from corporate settings to leading K-12 students in culinary and garden lessons. She has over three decades of industry experience that ranges from school and community settings to luxury hotel properties. She has managed kitchens for corporations, opened and managed kitchens for small business startups, led local non-profit events, and instructed intercity youth. She is excited to contribute to supporting rising youth leaders in culinary, gardening, and building community strength. Striving for nourishment, equity, and racial & social justice are intrinsic values for her. Working with the FoodCorps and Youth Grow familia dedicated to the same aspirations is super exciting!
hosted by

KidsGardening