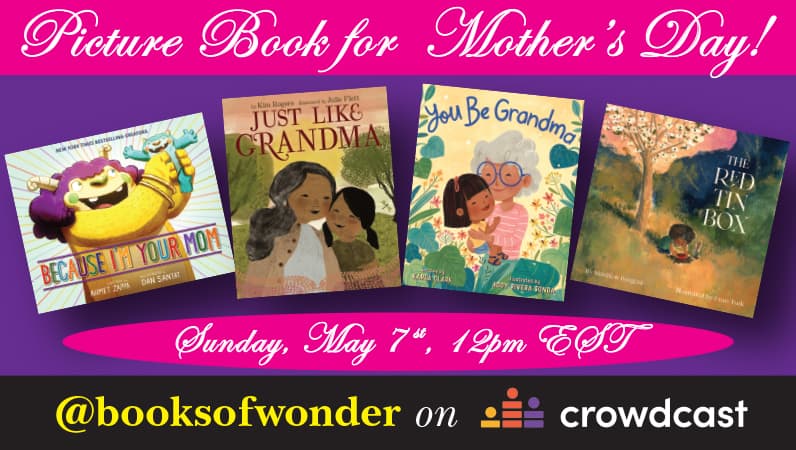 Picture Books for Mother's Day!
By Books of Wonder
What better way to celebrate the moms in our lives than with these wonderful picture books? Join Books of Wonder for these terrific tales perfect for sharing with that special person in your life!
Because I'm Your Mom

 by

AHMET ZAPPA

. What's the best kind of mom? The kind of mom who lets you have nachos for breakfast, goes skateboarding with you at the beach, and does the dinosaur dance with you under the full moon. But best of all, she kisses away your owies, wishes upon a shooting star for you, and loves you always... for exactly who you are.

The Red Tin Box

by

MATTHEW BURGESS

and illustrated by

EVAN TURK

. This moving and radiant story of the relationship between a grandmother and granddaughter, and the joy and promise passed down between them, begins one quiet dawn... This enchantingly illustrated book is a joyful celebration of intergenerational relationships and of the secret treasures of childhood!

You Be Grandma

by

KARLA CLARK

. In this clever, rhyming picture book, a grandmother tells her granddaughter that she's simply too tired to be Grandma tonight and asks her granddaughter to take over for her.

Just Like Grandma

by

KIM ROGERS

and illustrated by

JULIE FLETT

.Becca loves spending time with Grandma. Every time Becca says, "Let me try," Grandma shows her how to make something beautiful. Whether they are beading moccasins, dancing like the most beautiful butterflies, or practicing basketball together, Becca knows that, more than anything, she wants to be

just like Grandma

.