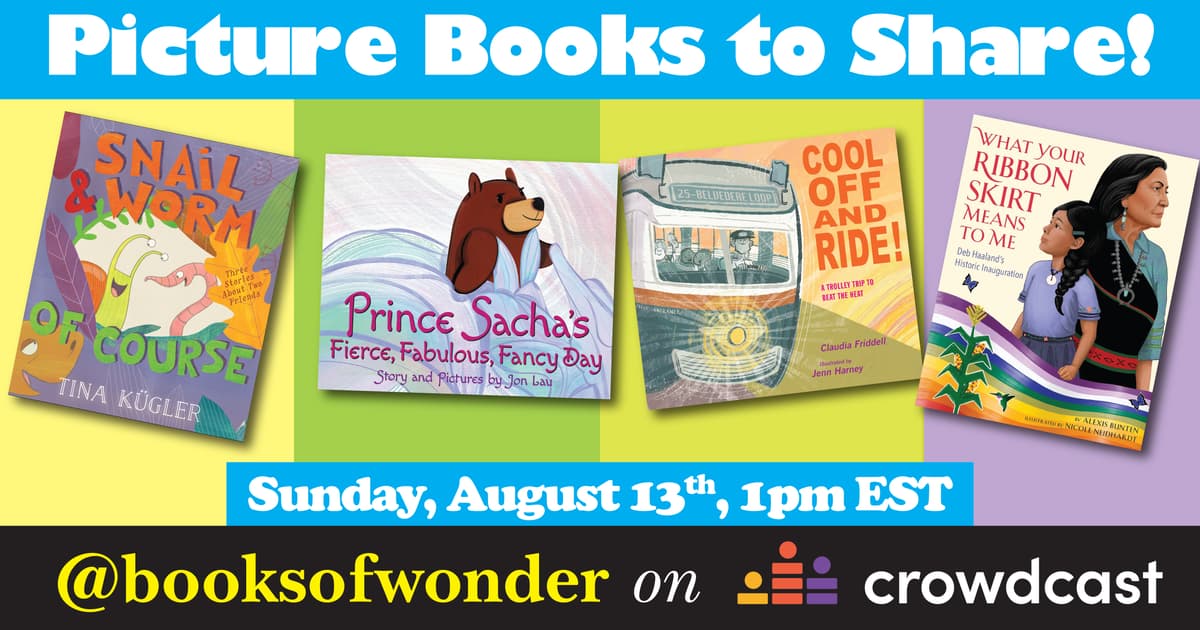 Picture Books to Share!
By Books of Wonder
Delightful Tales for All!
Did you know that in the 1930's, people used to ride the city trolleys around in the summer evenings to cool down, before there was air conditioning? That the first Native American cabinet secretary is currently in office? Or that rabbits can outsmart a bear, and snails and worms can be bffs? Join us for these fun stories, some true, some silly!
Cool Off and Ride!

by

CLAUDIA FRIDELL

. Everyone in Baltimore is hot and sticky, from little Hazel playing on the slide to the grandma knitting on the porch. So when evening comes, they all jump at the chance for a little "cool off and ride." The whole neighborhood–from the Taylor twins to Grandpa, and even the dog!—piles onto a breezy homemade roller coaster, a city trolley!

Snail and Worm, Of Course!

by

TINA

KÜGLER

. In the fourth book of this charming series, invertebrates Snail and Worm prove that while they may not have backbones, they always have each other's backs! With signature cheer and heartfelt humor, these tales celebrate friends who accept each other exactly as they are.

Prince Sacha's Fierce, Fabulous, Fancy Day

by

JON LAU

. Prince Sacha has commissioned all the dress designers in the kingdom to create the most marvelous creation for him to wear for the annual Royal Prince Parade. But nobody is up for the job until a cunning rabbit gown maker and his siblings show our royal bear an extraordinary garment that is quite exceptional... or is it?

What Your Ribbon Skirt Means to Me: Deb Haaland's Historic Inauguration

by

ALEXIS BUNTEN

. After school, Pia rushes over to the Indigenous community center. She gathers with all the children around their television to witness Secretary Deb Haaland in her ribbon skirt at the White House as she becomes the first Native American to serve as a cabinet secretary. Pia and the other kids behold her Native pride on an international stage.
Sunday, August 13th at 1PM EST via Crowdcast!