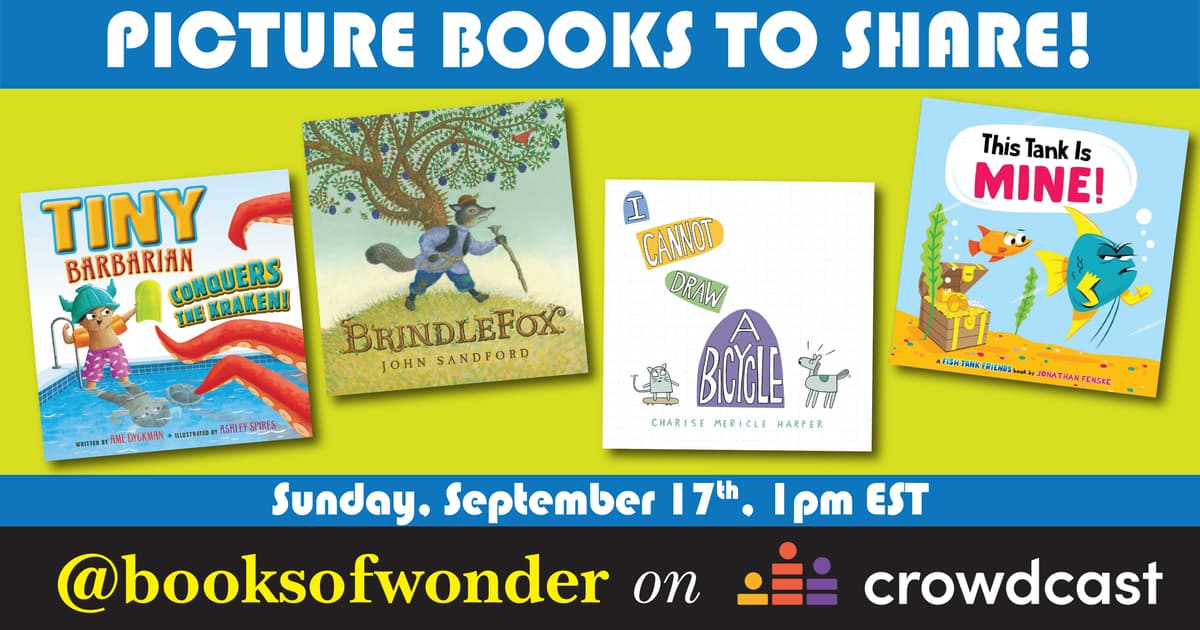 Picture Books to Share!
By Books of Wonder
Sweet Tales Perfect for Sharing!
These darling books are full of tales of fun and friendship, with plenty of funny twists! Be sure to tune in for these heartfelt titles!
I Cannot Draw a Bicycle

by

CHARISE MERICLE HARPER

. A

laugh-out-loud picture book about making something out of nothing! The Horse wants a bicycle. A bicycle is hard to draw. The Book cannot draw a bicycle. But the Book CAN draw shapes. Can the Horse and the Cat build a bicycle from shapes? Or will their dreams end in pieces?
BrindleFox

by

JOHN SANDFORD

. BrindleFox refuses to be a friend, so he has no friends. One morning, he discovers something unexpected — a tree has begun sprouting from his back. One day, a strange heron appears in his tree. Furious, BrindleFox attempts to drive the intruder away and finds himself stunned by something he doesn't understand — a selfless act of kindness from a fearless new friend.
This Tank is

Mine!

by 

JONATHAN FENSKE. 

Angelo the angel fish lives in an awesome fish take — but then a new fish gets dropped into 

his

tank. Now, Angelo has to share! This adorable and hilarious picture book is all about how sharing can be fun wit ha friend by your side!
Tiny Barbarian Conquers the Kraken

by 

AME DYCKMAN. 

Tiny Barbarian is back and ready to take on the high seas... except he doesn't know how to swim! In this epic summertime tale of bravery and imagination, join the heroic Tiny Barbarian as he gears up, learns to swim, and takes on the mighty kraken of the deep!