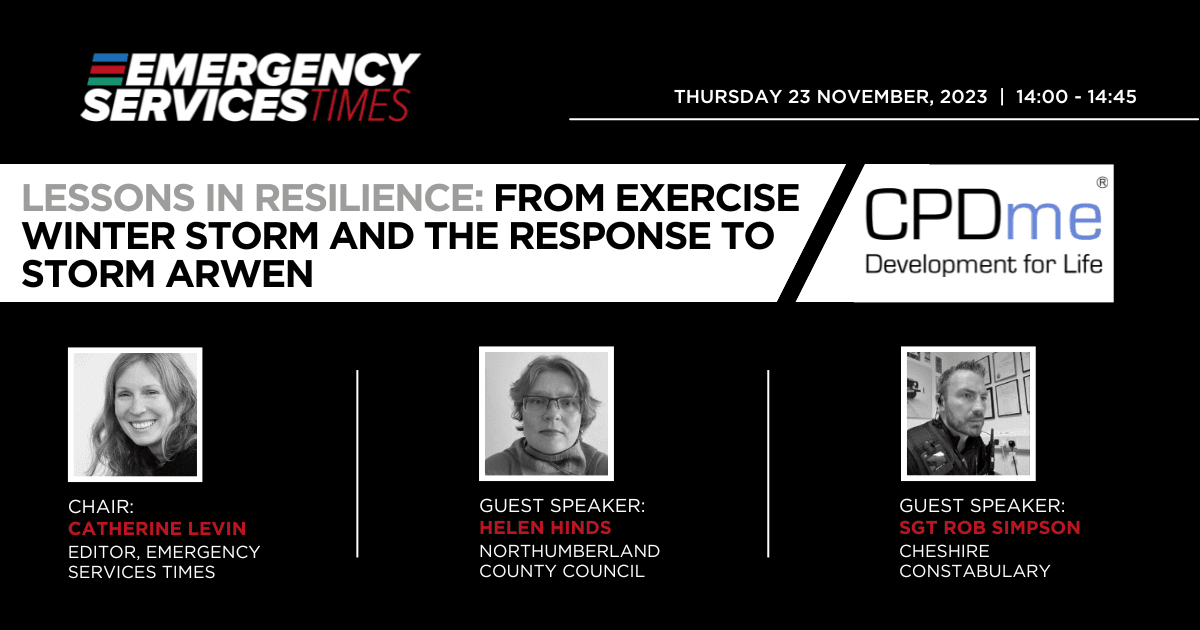 Lessons in Resilience: Learning from Exercise Winter Storm and the Response to Storm Arwen
By Emergency Services Times
We delve into the intricate world of disaster preparedness and response through the lens of two significant events: Exercise Winter Storm, and the crisis of Storm Arwen.
This session invites you to hear from the professionals who design and execute emergency exercises, offering invaluable insights into how these
simulated scenarios are essential for building resilience
and ensuring a successful response when the unexpected strikes.
Deepen your understanding of the multi-agency approach to resilience and come away better equipped to face the challenges that nature can throw your way.
Uncover the essential components that make an emergency exercise effective -

planning, execution and evaluation

- and the importance of realistic scenarios, clear objectives and participant engagement.

Explore how

developing strong multi-agency relationships

is the cornerstone of resilient disaster response, and how these crucial partnerships are leveraged during both exercises and real crises.

Gain practical insights into

designing winter-specific emergency exercises

, recognising the unique challenges of cold weather events, and learn how to create scenarios that mimic these conditions effectively.

Learn how the lessons and experiences from exercises like Winter Storm are

applied to real-life situations

, such as the response to Storm Arwen. Discover the critical role that prior training plays in the swift and efficient response to natural disasters.
Date:
Thursday 23 November 2023, 14:00
Catherine Levin
, Editor, Emergency Services Times
Helen Hinds
, Business Resilience & Emergency Planning Lead, Northumberland County Council
Rob Simpson
, Police Sergeant, Cheshire Constabulary
hosted by

Emergency Services Times