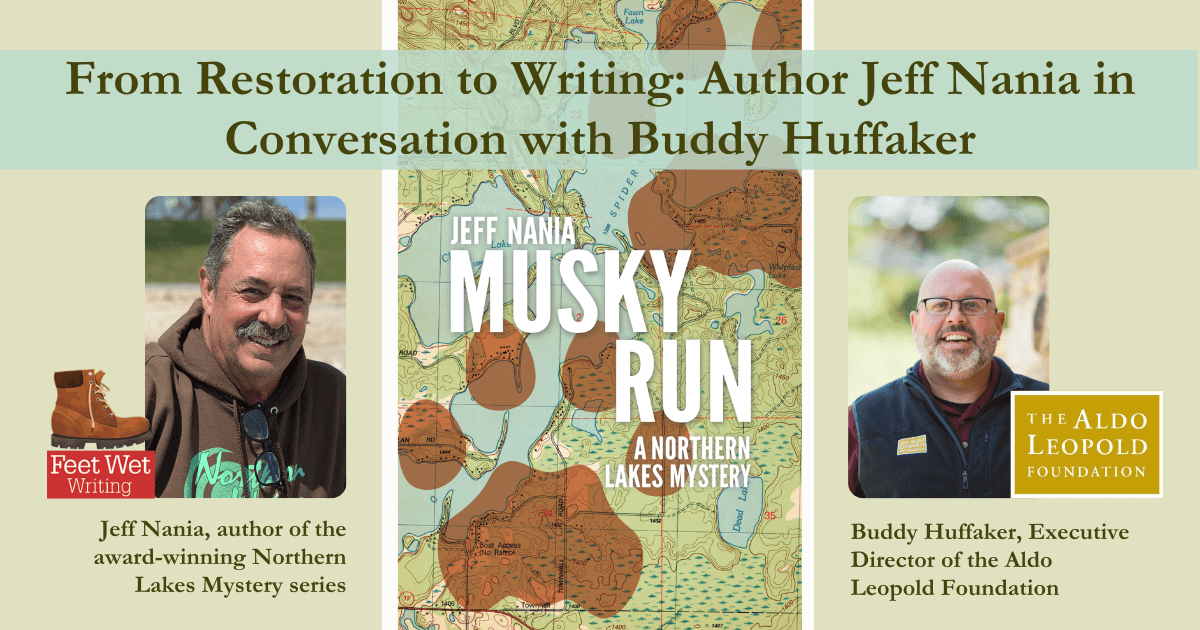 From Restoration to Writing: Author Jeff Nania in Conversation with Buddy Huffaker
By Aldo Leopold Foundation
With the release of his fourth novel,
Musky Run
, Jeff Nania once again brings readers into the beauty and mystery of Wisconsin's Northwoods. Join Jeff and Aldo Leopold Foundation Executive Director Buddy Huffaker on August 10th as they talk about the development of this book, Jeff's lifelong commitment to restoration, and the way his writing connects to Aldo Leopold's
A Sand County Almanac
. Foundation Program Associate Leah Bieniak will be your host for the evening.
Jeff Nania is a former law enforcement officer, conservationist, biofuel creator, and an award-winning author. Born and raised in Wisconsin, his father often loaded Jeff, his brothers, and a couple of dogs into an old jeep station wagon for outdoor adventures. These foundational experiences fostered a sense of community, a passion for outdoor traditions, and a love of our natural resources. Jeff was a decorated officer and member of the first canine unit until a career change found him knee-deep in wetland restoration. He received the National Wetlands Award, and
Outdoor Life Magazine
named him one of the nation's 25 most influential conservationists. The Wisconsin Senate commended Jeff with a Joint Resolution for his work with wetlands, education, and as a non-partisan advisor on environmental issues.
The books in his Northern Lakes Mystery series—
Figure Eight
(2019),
Spider Lake
(2020), and
Bough Cutter
(2021)—have been recognized by the Midwest Book Awards, Independent Publisher Book Awards, and Next Generation Indie Book Awards. You can read more about the fourth book in the series,
Musky
Run (2023), below. Now a full-time novelist, Jeff spends as much time as possible fishing Spider Lake and exploring Wisconsin's landscape with his friends and family.
Olympic medalist Anna MacDonald comes home to Namekagon County to emcee the Great Wilderness Race as predators stalk the Northwoods. While occasional interactions with potentially dangerous animals are old hat for most residents, this changes when unpredictable behavior patterns make it unclear who is the hunter and who is the hunted. Sheriff John Cabrelli and the new Musky Falls chief of police work swiftly to keep the community calm as they try to piece together the clues before it is too late.
Learn more at www.feetwetwriting.com
hosted by

Aldo Leopold Foundation