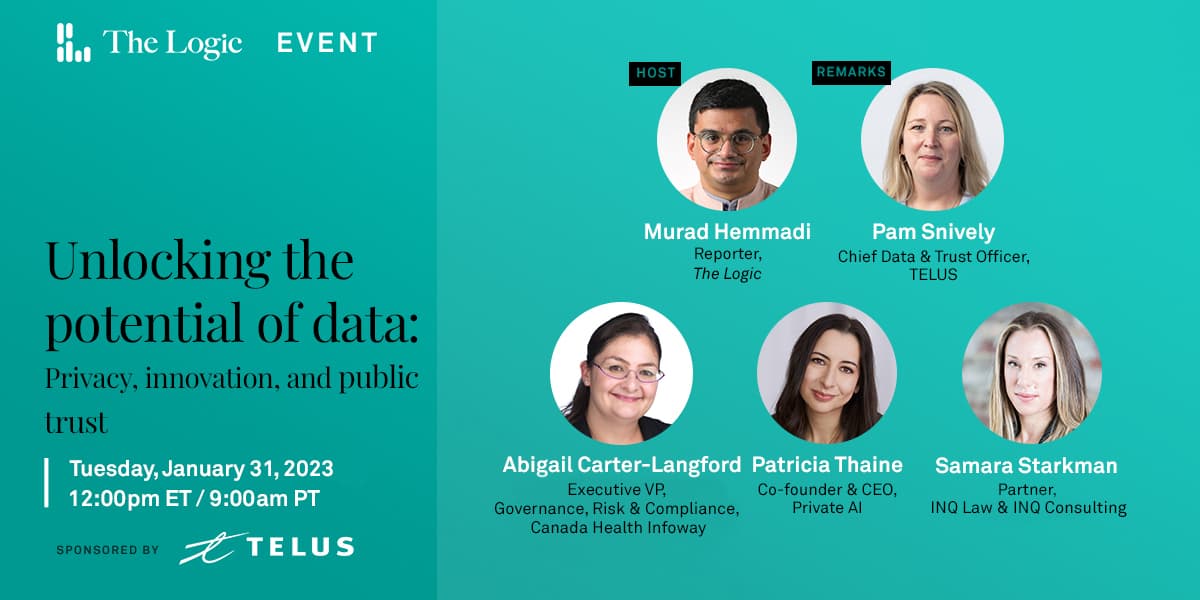 Unlocking the potential of data: Privacy, innovation and public trust
By The Logic
Technology is advancing rapidly—from artificial intelligence to computing—and with it, data has quickly become one of the most valuable commodities and a key driver of innovation. But with the volume of data being collected and shared, it's more critical than ever to ensure privacy and trust in data-driven decisions.
Coming off the heels of Data Privacy Week, join
The Logic
on Tuesday, Jan. 31 for a conversation on how industries can maximize the benefits of data while maintaining public trust. We will be joined by
Abigail Carter-Langford
, Canada Health Infoway's chief privacy & security officer, executive vice president, governance, risk & compliance;
Samara Starkman
, partner at INQ Law and INQ Consulting; and
Patricia Thaine
, co-founder and CEO of Private AI, to discuss how to navigate the complex landscape of data privacy. From understanding current legislation to exploring cutting-edge solutions, this event—hosted by
The Logic'
s reporter,
Murad Hemmadi,
with opening remarks from
Pam Snively
, chief data & trust officer, TELUS—will provide valuable insights for anyone concerned about data privacy in the digital age.