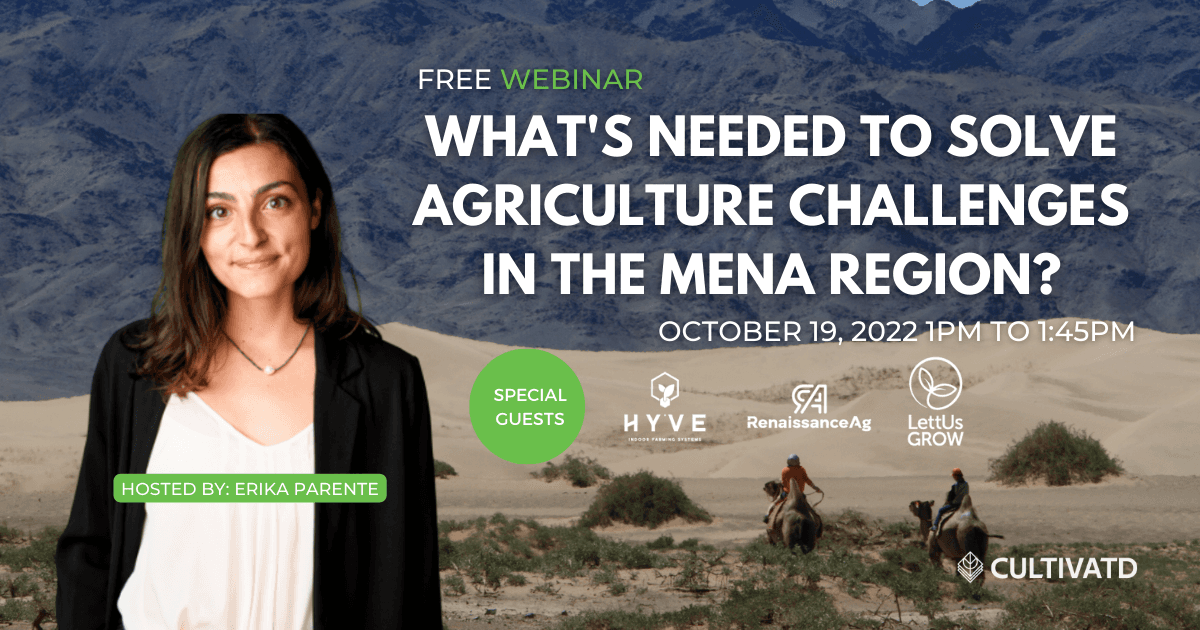 What's Needed to Solve Agriculture Challenges in the MENA Region?
By Cultivatd - Indoor Farming Made Easy
Scarce arable land and limited water have proven increasingly detrimental to food production in the MENA region. As a result of the inadequate supply of productive land and usable water, many MENA countries have become heavily-dependent on imported agricultural products. Given the limited agricultural potential in the MENA region, it is becoming progressively difficult for producers to manage the challenges of unproductive land, a diminishing water supply, and the continuing environmental degradation linked to climate change.
We have assembled a panel of indoor farming experts to discuss the challenges facing agriculture production in the MENA region, and offer viable solutions to overcome concerns about limited land, water scarcity, and food security.
Chief Grower/Researcher at Hyve
Holding a Ph.D. in Technology Education from the University of Maryland at College Park, Paul has minors in agricultural and vocational education and has served as co-owner of a large-scale traditional greenhouse and garden center operation. At HYVE his combination of education and real-world primary research makes him an invaluable member of the HYVE team.
Food Systems Research & PR Lead at LettUs Grow
India is a sustainable farming researcher, writer and speaker. She has made her career telling the story of fresh produce's impact on our planet across start-ups, not-for-profits and multinational corporations. Since 2018 she's led the public relations at LettUs Grow, an innovative aeroponics company that's building the farms of the future, who she's represented at the UN Food Systems Summit Dialogues and the Royal Society. Alongside her work at LettUs Grow, she is also pursuing postgraduate study at the Centre for Food Policy in London.
Chief Executive Officer at Renaissance Ag
As the CEO of Renaissance Ag, Caleb is highly-engaged in building the "rebar" of agriculture - livestock feed. Under his leadership, the company is focused on the small and mid-sized livestock producers of the world, and strives to connect them to the supply chain in a more meaningful and sustainable way.
Reserve your seat
and join us on October 19th, 2022 at 1:00pm to 1:45pm EST for an informative and insightful discussion about the challenges facing MENA agriculture production. Together, we'll identify solutions to address scarce water, limited land, and climate change in the region.
This event is hosted by Erika Parente, Director of Farming-as-a-Service at Cultivatd.
hosted by

Cultivatd - Indoor Farming Made Easy