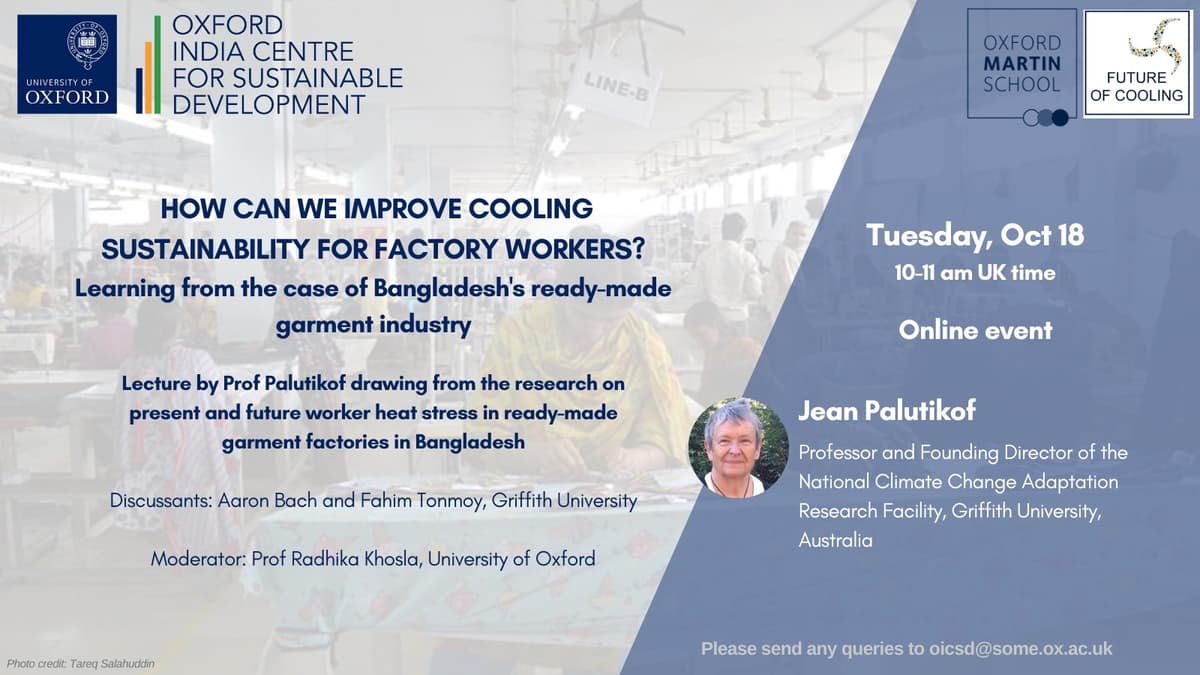 Sustainable cooling for Bangladesh factory workers under climate change: the case of the ready-made garment industry
By Somerville College, Oxford
The ready-made garment (RMG) industry in Bangladesh is a mainstay of the economy, a strong driver of economic growth and a major contributor to GDP and export earnings. The industry accounts for 82% of exports by value and 12-15% of GDP. In 2021-22 it generated USD42.6 billion to the economy and employed around 4 million people, of whom 60% are women. As such, it provides financial independence to young women of modest education – a rarity in low- and middle-income countries.
Any threat to the productivity of the industry and the welfare of its workforce will have major implications for the nation as a whole. Working conditions in RMG factories are stressful to the point of threatening workers' health, and a major contributor is excessive heat. The situation is highly likely to worsen in future due to global warming. Furthermore, if in future the industry becomes more reliant on air-conditioning for cooling purposes, this will simply add to the burden of greenhouse gases, since Bangladesh is heavily reliant on natural gas for electricity generation.
We are coming to the end of the three-year project funded by Wellcome to explore low- to moderate-cost sustainable strategies to reduce heat stress in two Bangladesh RMG factory buildings, and their performance under future climate change. The strategies are green roofs (vegetation), white roofs (paint) and shading. Using a combination of monitoring, modelling, worker interviews and climate chamber experiments, we have been able to show that all interventions produced improved conditions, though to varying degrees.
This one-hour webinar will report on the approach, methods and findings of the project. There will be a 30-minute presentation by Jean Palutikof, followed by the opportunity for questions and discussion with Jean and two project investigators, Aaron Bach and Fahim Tonmoy.
Jean Palutikof is Professor and Founding Director of the National Climate Change Adaptation Research Facility, Griffith University, Australia, where she has worked since October 2008. Previously, she managed production of the Intergovernmental Panel on Climate Change (IPCC) Fourth Assessment Report for Working Group II (Impacts, Adaptation and Vulnerability), while based at the UK Met Office. From 1979 to 2004 she worked at the University of East Anglia, UK, becoming a Professor in the School of Environmental Sciences, and Director of the Climatic Research Unit. Her research interests focus on climate change impacts and adaptation, and communication of knowledge to adaptation decision-makers.
hosted by
SO
Somerville College, Oxford