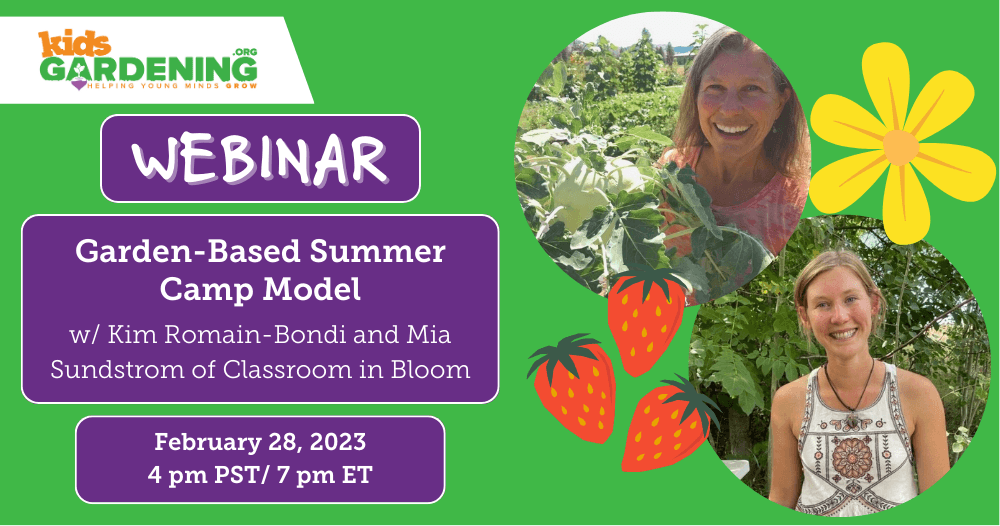 Garden-Based Summer Camp Model
By KidsGardening
Washington-based non-profit, Classroom in Bloom, offers a very successful 4-6 week summer camp program for children ages 6-10 yrs old. Executive Director Kim Romain-Bondi and Youth Education Coordinator Mia Sundstrom will share ways to help you harness children's energy in the garden into an inquiry-based learning summer camp environment packed with engaging activities.
The presentation will provide a daily schedule and rotate through inquiry-based activities that highlight camp themes such as Art in the Garden, Garden Games, Garden Pollination, Ethnobotany, Nature's Musical Garden, and Garden Chefs.
Kim and Mia will also share what they've learned about building a financial model for a camp program, budgeting, scholarships, marketing, and ways to incorporate your local school district.
Kim Romain-Bondi
is Classroom in Bloom's executive director. Her career as a Wildlife Biologist, home gardener, and educator culminated in this position at CiB in 2017. Classroom in Bloom fulfills Kim's dream of combining outdoor adventure with fresh food, science, and art education in her community. Kim is inspired by CiB's intentional directive to give every student the opportunity to explore nature as part of their classroom while they learn how to grow fresh food and enjoy the fruits and veggies of their labor.
Mia Sundstrom
is Classroom in Bloom's Youth Education Coordinator. After working with youth in wild places across the country, Mia is excited to find herself in CiB's vibrant garden where children develop a connection with the food they eat and the place they live. Mia finds joy in experiencing the enthusiastic learning that takes place in the garden and is delighted to see healthy food disappear into the bodies of growing kids.
hosted by

KidsGardening