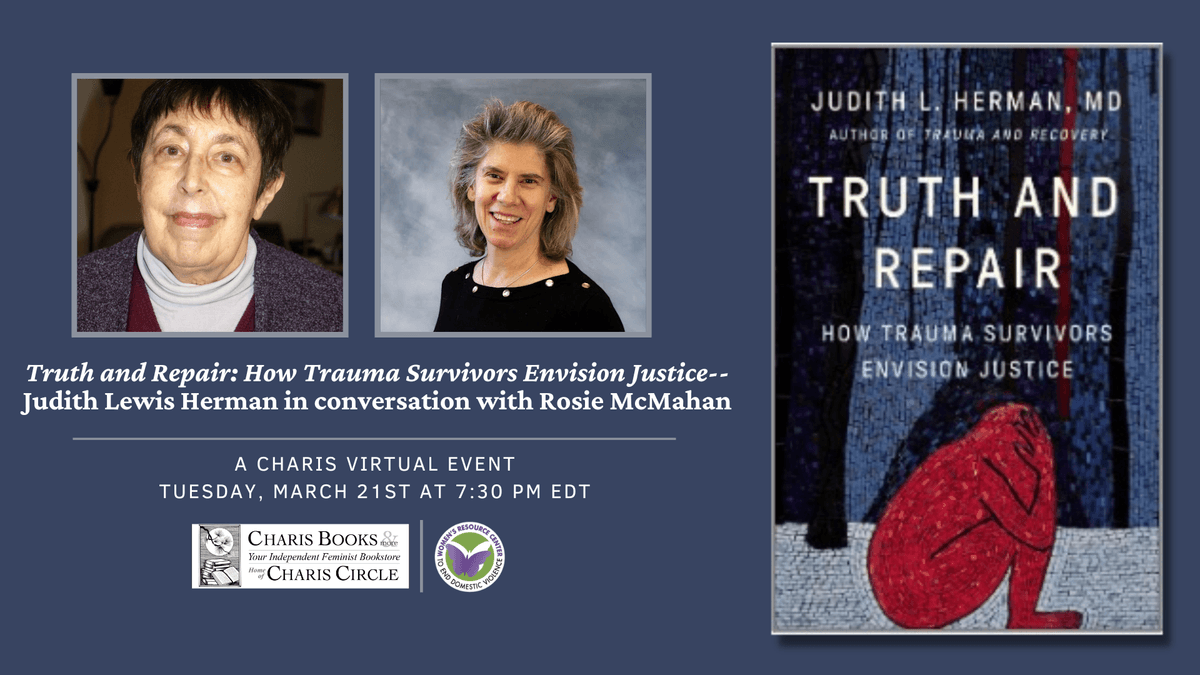 Truth and Repair: How Trauma Survivors Envision Justice--Judith Lewis Herman in conversation with Rosie McMahan
By Charis Books and More/Charis Circle
Charis welcomes Judith Lewis Herman in conversation with Rosie McMahan for a discussion of 
Truth and Repair: How Trauma Survivors Envision Justice
. From one of America's most influential psychiatrists, a powerful manifesto for reimagining justice, based on the testimony of trauma survivors. This event is co-sponsored by the Women's Resource Center to End Domestic Violence. The mission of Women's Resource Center to End Domestic Violence is to create a society in which domestic violence no longer exists. We strive to meet the immediate and long-term needs of the diverse community of domestic violence survivors and their children with programs that promote safety, compassion, connection, advocacy, and prevention. WRC can be reached 24/7 at 404-688-9436.
The #MeToo movement brought worldwide attention to sexual violence, but while the media focused on the fates of a few notorious predators who were put on trial, we heard far less about the outcomes of those trials for the survivors of their abuse.  The conventional retributive process fails to serve most survivors; it was never designed for them. Renowned trauma expert Judith L. Herman argues that the first step toward a better form of justice is simply to ask survivors what would make things as right as possible for them. In 
Truth and Repair
, she commits the radical act of listening to survivors. Recounting their stories, she offers an alternative vision of justice as healing for survivors and their communities.  Deeply researched and compassionately told, 
Truth and Repair
 envisions a new path to justice for all.
Judith L. Herman, MD
, is a professor of psychiatry at Harvard Medical School. She was the recipient of the Lifetime Achievement Award from the International Society for Traumatic Stress Studies and is a distinguished life fellow of the American Psychiatric Association.
First, a daughter, sister, wife, and mother,
Rosie McMahan
identifies as an irreverent and opinionated white cis gendered woman, who is also a survivor, a feminist, writer, educator, counselor, attending Quaker, community activist, and avid botanical enthusiast. Her poetry has been published in several journals, including "Art In The Time Of Unbearable Crisis
"
, that came out in the summer of 2022. Born and raised in Somerville, she works at MA Mentoring Partnership and owns and operates Optimistic Options, a private practice rooted in trauma informed care and restorative justice principles. Receiving her M.Ed. from the Harvard Graduate School of Education, she is a writer who participates in community-based activities attempting to eradicate inequities.
This event is free and open to all people, especially to those who have no income or low income right now, but we encourage and appreciate a solidarity donation in support of the work of Charis Circle, our programming non-profit. Charis Circle's mission is to foster sustainable feminist communities, work for social justice, and encourage the expression of diverse and marginalized voices. https://donatenow.networkforgood.org/CharisCircle?code=chariscirclepage
Please contact us at [email protected] or 404-524-0304 if you would like ASL interpretation at this event. If you would like to watch the event with live AI captions, you may do so by watching it in Google Chrome and enabling captions: Instructions here. If you have other accessibility needs or if you are someone who has skills in making digital events more accessible please don't hesitate to reach out to [email protected]. We are actively learning the best practices for this technology and we welcome your feedback as we begin this new way of connecting across distances.
By attending our virtual event you agree to our Code of Conduct: Our event seeks to provide a harassment-free experience for everyone, regardless of gender, gender identity and expression, age, sexual orientation, disability, physical appearance, body size, race, ethnicity, religion (or lack thereof), class, or technology choices. We do not tolerate harassment in any form. Sexual language and imagery are not appropriate. Anyone violating these rules will be expelled from this event and all future events at the discretion of the organizers. Please report all harassment to [email protected] immediately.
hosted by

Charis Books and More/Charis Circle