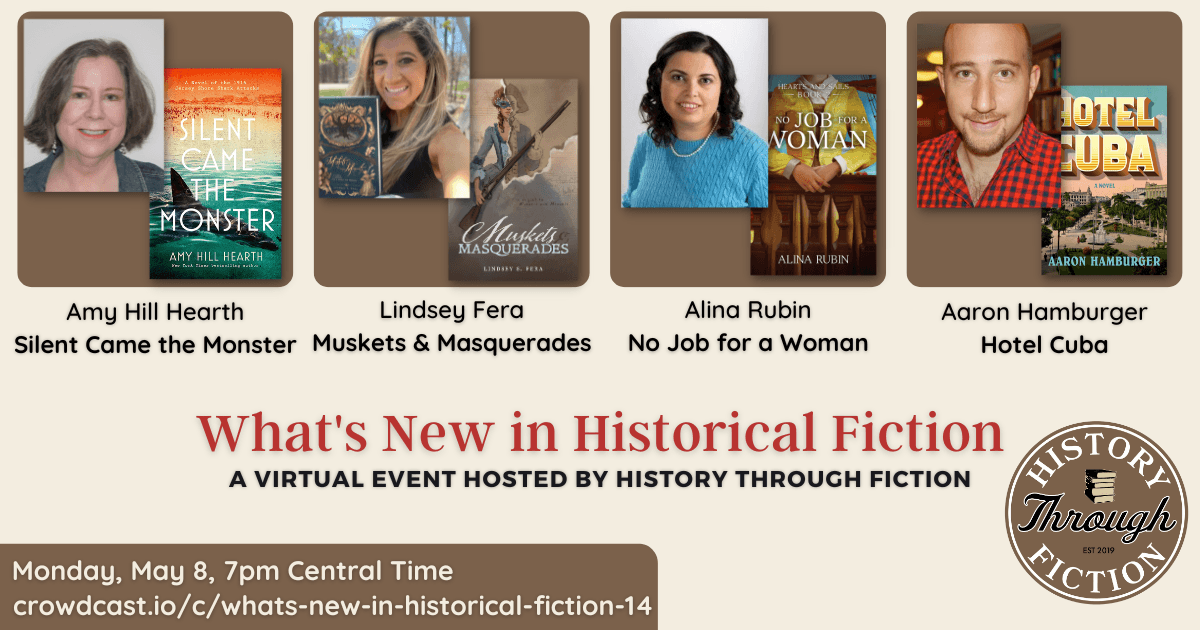 What's New in Historical Fiction
By History Through Fiction
Please join History Through Fiction for
What's New in Historical Fiction
, a regular panel series featuring historical novelists with new and upcoming titles. Moderated by History Through Fiction editor, Colin Mustful, this special panel features:
Amy Hill Hearth
author of
Silent Came the Monster
Alina Rubin
author of
No Job for a Woman
Lindsey S. Fera
author of
Muskets & Masquerades
Aaron Hamburger
author of
Hotel Cuba
Amy Hill Hearth
is an American nonfiction author, novelist, and former journalist whose work focuses on American history, lost or little-known stories, and the wisdom of her elders. Her newest novel,
Silent Came the Monster
, is the story of the 1916 Jersey Shore shark that changed the way Americans think of the seashore, reminding us once again that nature plays by its own rules.
Alina Rubin
is an IT professional with degrees in Business and Information Technology. During the pandemic lockdowns she discovered that writing was her passion, leading her to publish her debut novel,
A Girl With a Knife.
Her newest novel in the Hearts and Sails Series,
No Job for a Woman
, tells the courageous story of a woman surgeon saving lives and refusing to be put in her place.
Lindsey S. Fera
is a born and bred New Englander who forged her love for writing with her intrigue for colonial America by writing her debut novel,
Muskets & Minuets
. The second novel in her series,
Muskets & Masquerades
follows Annalisa Howlett and her male alter ego, Benjamin Cavendish, as she rejoins the Continental Army amidst betrayal, deceit, and conflicts of the heart.
Aaron Hamburger
is the award-winning author of the short fiction, novels, and creative non-fiction. He has taught creative writing at numerous colleges and universities. His newest novel,
Hotel Cuba
, explores the profound courage of two women displaced from their home who strive to create a new future in an enticing and dangerous world far from anything they have ever known.
hosted by

History Through Fiction