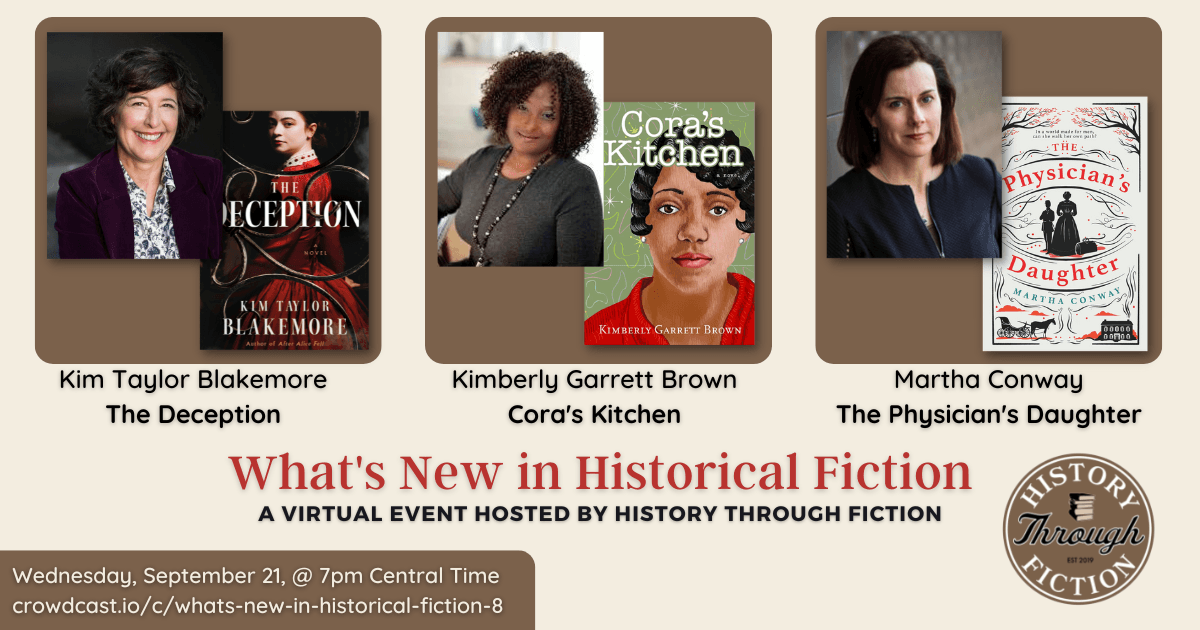 What's New in Historical Fiction
By History Through Fiction
Please join History Through Fiction for
What's New in Historical Fiction
, a regular panel series featuring historical novelists with new and upcoming titles. Moderated by History Through Fiction editor, Colin Mustful, this special panel features:
Kim Taylor Blakemore
, author of
The Deception
Kimberly Garrett Brown
, author of
Cora's Kitchen
Martha Conway
, author of
The Physician's Daughter
Kim Taylor Blakemore writes historical novels that feature fierce and often dangerous women. She writes about the thieves and servants, murderesses and mediums, grifters and frauds - the women with darker stories, tangled lies and hidden motives. In her newest novel,
The Deception
, Maud Price, a once celebrated child medium relies on the spiritualist Clementine Watkins to restore her fame. When the deception hints at a possible murder, Maud realizes how dangerous a game she's playing.
Kimberly Garrett Brown has an MFA in creative writing from Goddard College and is the founder and editor of Minerva Rising Press. Her novel,
Cora's Kitchen
, was a finalist in the 2016 Louise Meriwether First Book Prize, and short listed in the 2015 William Faulkner – William Wisdom Creative Writing Competition. In the novel, set in 1928, 35-year-old Black librarian Cora James is inspired to become a writer after receiving a letter back from Langston Hughes. As the story progresses Cora's journey to becoming a writer takes her to the brink of losing everything, including her life.
Martha Conway is the author of several novels including
The Underground River
, which was a New York Times Book Editor's Choice (titled The Floating Theatre in the U.K. and Europe). Her novel
Thieving Forest
won the North American Book Award for Best Historical Fiction. Her newest novel,
The Physician's Daughter
, is set in the aftermath of the American Civil War when 18-year old Vita Tenney is determined to pursue her lifelong dream of becoming a country doctor like her father. But, when love starts to compete with ambition, what will come out on top?
hosted by

History Through Fiction