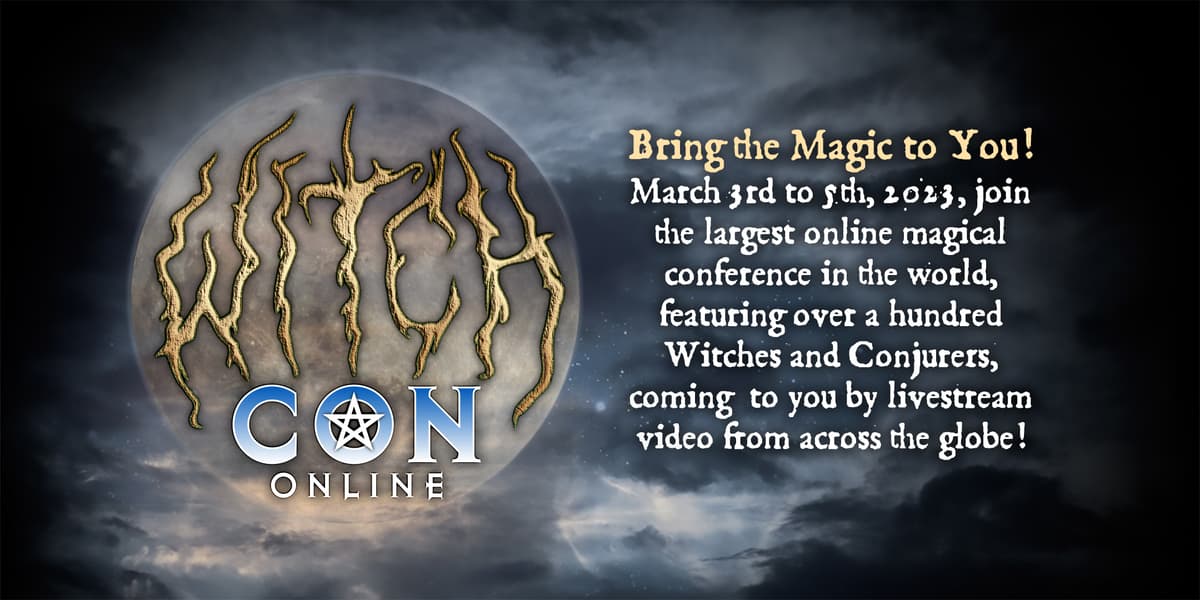 WitchCon Online 2023: A Livestream Magical Conference
By Hex Education Network
WitchCon Online 2023 Has Ended But Click "View Tickets" to Register to Watch All Class Recordings for Only $75!
Register and you can watch recordings as often as you like for as long as you like!
Magical Presenters for WitchCon Online 2023 Include:
A.C. Fisher Aldag, Alexander Cabot, Alexis Pharae, Angela DiFazio, Angie Buchanan, Ashley Mortimer, Avi Lago, Blake Malliway, Bree Bella Cabot, Brian Cain, Byron Ballard, Cait Johnson, Carly Dwyer, Caroline Tully, Cat Gina Cole, Cat Thagard, Charity Bedell, Christian Day, Christine Stephens, Clifford Hartleigh Low, Craig Spencer, Darcie Vélez, Diana Rajchel, Dr Angela Puca, Dr. Tom Erik Raspotnik, Dragon Ritual Drummers, Elie Barnes, Ellen Evert Hopman, Father Sebastiaan, Fatima Mbodj, Frances Billinghurst, Frater Tenebris, Georgi Mishev, Geraldine Beskin, Giulia Turolla, Houngan Sen Jak, Jacq Civitarese, James Divine, Jefferson Almeida, Jen Sankey, Jennifer Medway, Jim Sayers, John Corvus, John Opsopaus, Judy Ann Nock, Juliet Rose, Kaedrich Olsen, Kenya T Coviak, Krystal Madison, Levi Rowland, Lilith Dorsey, Liz Williams, Madame Zee, Manny Moreno, Mark NeCamp, Martha Morán González, Mato Watakpe, Melanie Marquis, Michael Correll, Michael Furie, Michael Herkes, Mimi Curry, Miss Aida, Mystic Dylan, Oberon Zell, Orion Foxwood, Papa Hector, Pastor Phil Wyman, Patricia Telesco, Petrucia Finkler, Priestess Miriam, Rachel Patterson, Raphael Kakazu, Rebeca Spirit, Sean Wilde, Shannon Marie Daoust, Silver RavenWolf, Starr RavenHawk, Tess Whitehurst, Thorn Mooney, Timothy Shaw, Tomas Prower, Tony Mierzwicki, Trevor Jones, Vikki Bramshaw, Winifred Tannetta-Costello, Witchdoctor Utu, Yeshe Matthews, Yvonne Haas
March 3rd to 5th, 2023, Brian Cain, Christian Day and the HEX Education Network present WitchCon Online, featuring over a hundred classes by dozens of Witches and Conjurers from across the globe ready to share their time-honored wisdom and witchery.
WitchCon Online presenters are the preeminent masters of the magical arts and hail from across a rainbow spectrum of occult and spiritual practices. Their classes are personally designed to help beginners, novices, and experts alike draw upon the power of magic!
WitchCon Online 2023 registration includes admittance to all livestream video classes, rituals, and performances, each personally designed to help beginners, novices, and experts alike draw upon the power of magic. It also grants access to watch every class after the event has ended via our on-demand library so you don't have to miss a magical moment!
The conference is livestreamed by the Hex Education Network on Crowdcast, a web-based platform with no need to download an app!
WitchCon Online attendees will love shopping live with our magical presenters, each showcasing powerful ritual tools, signed books, exquisite jewelry, and spellcrafts handmade by true practitioners in half-hour Live Sales. You don't have to travel to the ends of the Earth to scour the witch markets: you can buy from enchanting artisans and score amazing tools and talismans from the comfort of your own home. Our Virtual Vendorium is free to the public as well!
The WitchCon Online Virtual Meet and Greet lets you meet and interact live on Zoom with WitchCon presenters and its hosts Brian Cain and Christian Day. This is a great way to get to know your favorite teachers and what's even better is that it's free and open to the public!
hosted by

Hex Education Network