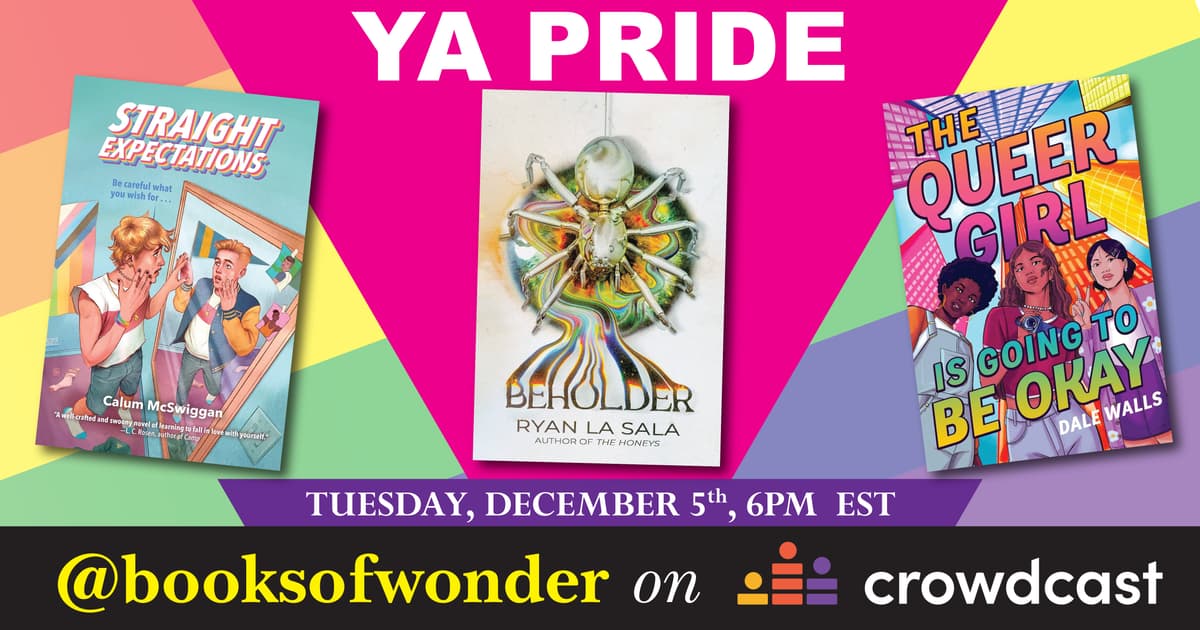 YA Pride
By Books of Wonder
These Titles are Sure to Shock and Delight You!
These books are full of clever schemes, magical switches, and murderous parties... so you certainly won't want to miss this exhilarating lineup!
The Queer Girl is Going to Be Okay

by

DALE WALLS

. Queer Love. Something Dawn wants, desperately, but does not have. But maybe, if she can capture it, film it, interview the people who have it, queer love will be hers someday. Or, at least, she'll have made a documentary about it. A documentary that, hopefully, will win Dawn a scholarship to film school. Many obstacles stand in the way of completing her film, but her best friends Edie and Georgia are there to help her reach her goal, no matter what it takes.

Straight Expectations

by

CALUM McSWIGGAN

. Seventeen-year-old Max has always been out and proud. But every time he looks around his small school, he sees straight couples everywhere. It's all he's ever wanted, but there are few queer boys to choose from. Beyond frustrated, he lashes out at his best friend, Dean, and wishes he had what everyone else has, and that they'd never been friends. Max wakes up to find his wish has come true — his feelings for boys have vanished, and so has Dean... With his life and relationships in tatters, Max sets out on a journey of rediscovery to find a way back to the life he took for granted, and the love story he thought he'd never have.

Beholder

by

RYAN LA SALA

. After securing an invitation to a mysterious penthouse soiree for New York City's artsy elite, Athan sneaks off to the bathroom, then hears a slam, followed by a scream. He peers outside, but is pushed back in by a boy his age. The boy gravely tells him not to open the door, then closes Athan in. Athan stays hidden for hours of horrible sounds. When he finally emerges, he discovers a massacre, and Athan's mysterious savior is nowhere to be found. Athan — the only known survivor — is now the primary suspect. Racing to prove his innocence, Athan is swept up in a supernatural mystery. Can he stop this evil thing, before it takes over?
Tuesday, December 5th at 6PM ET via Crowdcast!