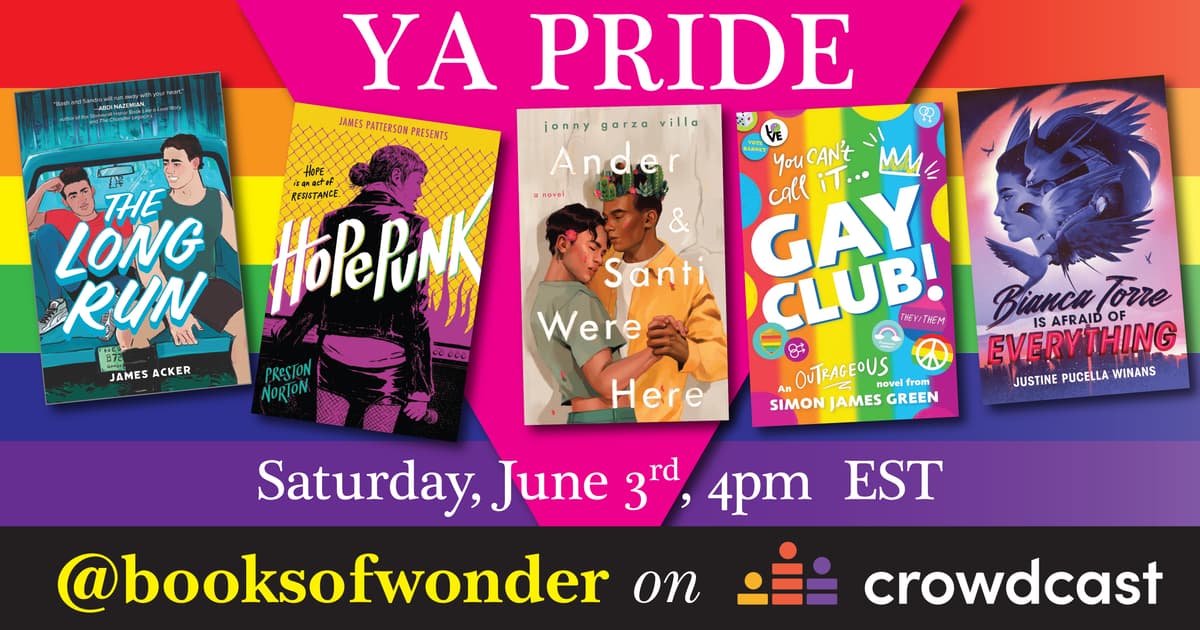 YA Pride - 6/3/2023
By Books of Wonder
These fabulous titles are superb for celebrating Pride Month! From a musically rebellious sister, to a couple against the world, to a cutthroat LGBTQ+ club election, to busted house party that leads to romance, to  a campy murder mystery, you won't want to miss these books!
Hopepunk

by

PRESTON NORTON

. When punk rock-obsessed Hope's sister, Faith, is outed by their younger sister, Faith runs away, and Hope rebels. She gets a tattoo and tries singing through the hurt with her Janis Joplin-style voice. But when her long-time crush Danny comes out and is  kicked out of his house, Hope can't let history repeat itself. Now living in Faith's room, Danny and Hope strike up a friendship... and a band. And their music just might be the answer to dethroning Alt-Rite, Danny's twin brother's new hate-fueled band.
Ander and Santi Were Here

by

JONNY GARZA VILLA

. Ander Martínez has only ever known their life in San Antonio, TX, including their job at the family's taqueria. But as the days count down on their gap year until the day they'll leave for art school in Chicago, they meet Santiago López Alvarado, the hot new waiter. Ander is immediately crushing, and falling for each other is as natural as breathing; but then vans are spotted following Santi on his walks to work, and ICE agents are waiting for them at Ander's house. It begins to feel like the entire world is against them, and eventually, the outside world starts to win.
Gay Club!

by

SIMON JAMES GREEN

. Barney's a shoo-in for his school's

LGBTQ+ Society President

at the club's next election. But when the vote is opened up to the entire student body, the whole school starts paying attention. How

low

will the candidates go to win? Buckle up for some serious

shade, scandals and sleazy shenanigans

. It isn't long before it's National Coming Out Day — for everyone's secrets! But when the group faces an unexpected threat — and a big opportunity — can the club members put politics aside and

stand united?
The Long Run

by

JAMES ACKER

. Sebastian and Sandro are two track and field athletes with deep-rooted differences. But what they have in common? The desperate need to escape their everyday lives. They find themselves both at a house party, eager to run away from their friends, family, and burdensome expectations but what they really find... is each other.
Bianca Torre is Afraid of Everything 

by 

JUSTINE PUCELLA WINANS. 

Bianca is an anxious, introverted, nonbinary teen who has somehow waltzed into the middle of a murder mystery. In what was supposed to be one of their everyday birding sessions, Bianca suddenly captures the scene of a masked murderer taking their neighbor's life — and now it's up to them to take the killer down!