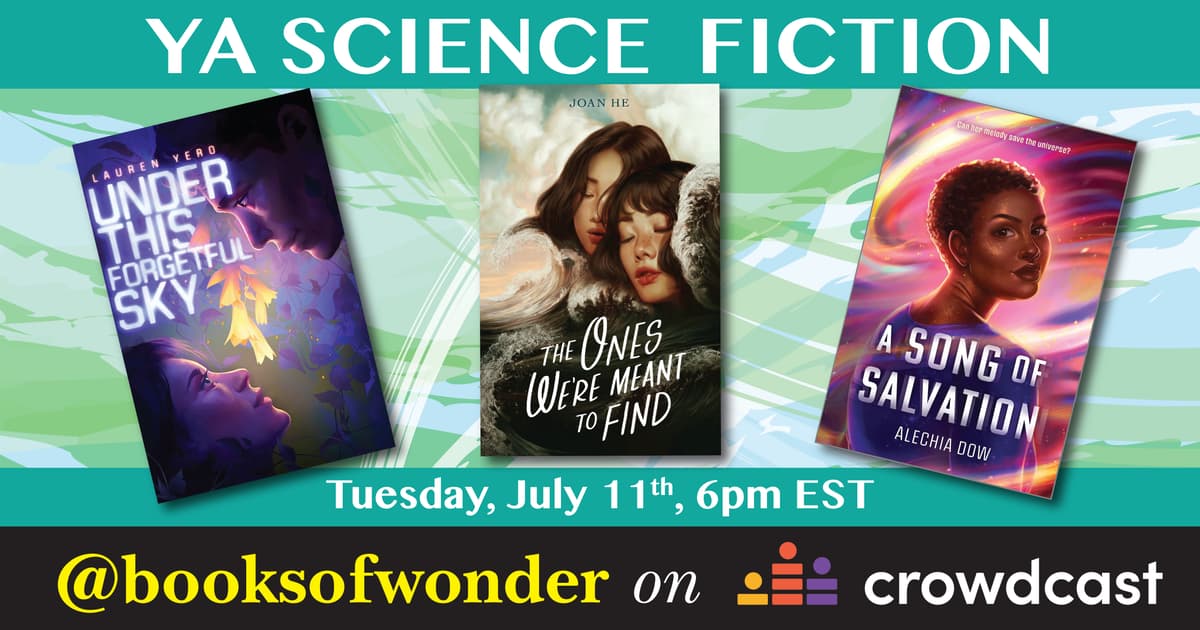 YA Science Fiction
By Books of Wonder
Strap in for These Stellar Tales!
In this intriguing virtual event you'll meet a girl that washes ashore with no memory but the instinct to find her long-lost sister, and then travel through the galaxy with a wanted celebrity, a thief, and a god reborn! With storylines like these, these books are sure to leave you starstruck!
The Ones We're Meant to Find

by

JOAN HE

. Cee awoke on an abandoned island three years ago. With no idea of how she was marooned, she only has a rickety house, an old android, and a single memory: she has a sister, and Cee needs to find her. Elsewhere, STEM prodigy Kasey wants escape from the science and home she once trusted. The Metropolis — Earth's last unpolluted place — is meant to be sanctuary for those committed to planetary protection, but it's populated by people willing to do anything for refuge, even lie. Now, she'll have to decide if she's ready to use science to help humanity, even though it failed the people who mattered most.

A Song of  Salvation

by

ALECHIA DOW.

 Zaira is the the god Indigo reborn, and unless she escapes and finds Wesley, she's going to be sacrificed to the god that he is prophesized to help her defeat. Wesley just wants to complete once last job as a smuggler, bringing wanted celebrity Rubin Rima to a strange planet called Earth, so he can save enough money to explore the stars, and be set for life. But when he meets Zaira, Wesley soon realizes the three of them must find their way to Earth and unlock Zaira's powers if they're going to have any hope of saving the universe from total destruction.

Under This Forgetful Sky

by

LAUREN YERO

. When Rumi's dad is infected with a fatal virus, he escapes to the outside world to find a cure, despite living his whole life in that protected city, safe from the environmental devastation outside. There he meets Paz, who not only agrees to guide him on his journey, but begins to fall for him, despite her tough exterior. Rumi feels the same way, but Paz knows more about Rumi's father's illness than she's saying, and has her own agenda. With the world pitting them against one another, can they learn to trust in each other — enough to imagine a different world?
Tuesday, July 11 at 6PM EST via Crowdcast!