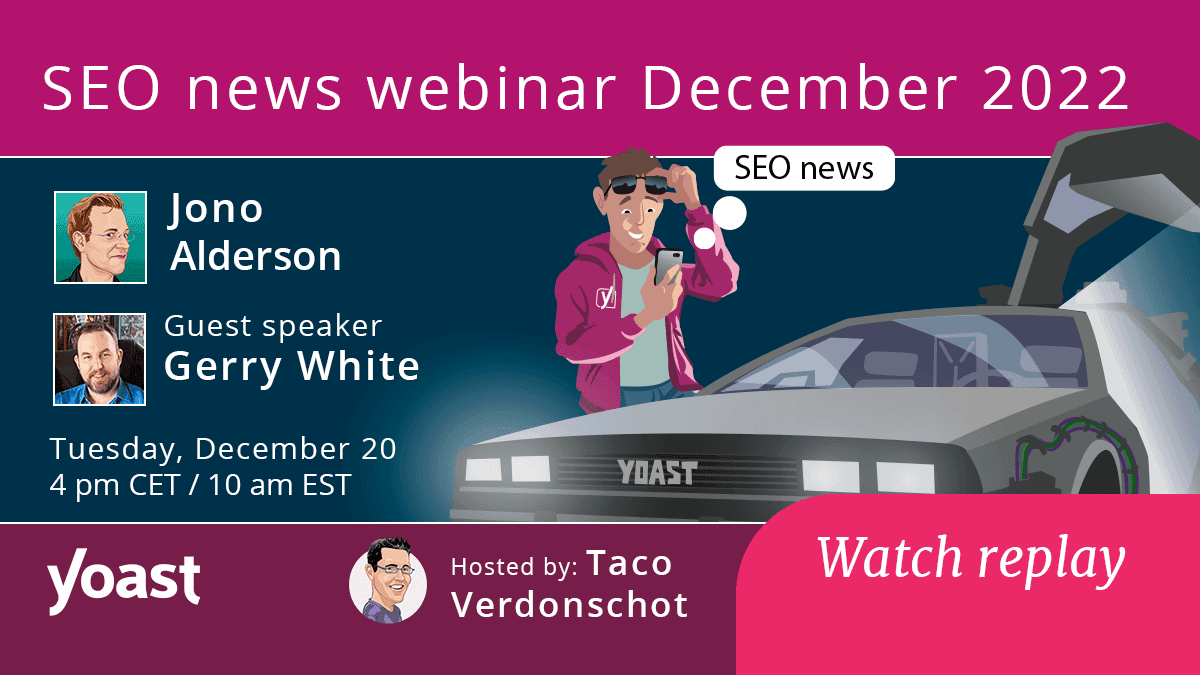 Yoast SEO news webinar - December 20
By Yoast
We're coming toward the end of 2022! It has been a blast to keep you updated on all the SEO news throughout the year and hear all your interesting SEO questions. Don't worry we'll keep on doing that in 2023. But besides looking back, it's also important to look ahead. That's why this webinar is not only about the most important SEO updates, but also about improving your SEO strategy in 2023. So that you can kick off your SEO in 2023 with a flying start. Our SEO experts Jono Alderson and Gerry White will talk you through the following:
The key SEO themes to watch for in 2023;

The most important SEO updates from Google, WordPress, and other platforms in 2022.

Tips and best-practices to help you with your SEO;

Extra:

 Get answers from our experts on your SEO related questions.
Tuesday, December 20, 2022;

Start time 4 pm CET / 10 am EST;

Duration 1 hour (including Q&A);

Free webinar

, but registration is required to attend live.
Jono is our Head of SEO. He's a digital strategist, marketing technologist, and full stack developer. He's into technical SEO, emerging technologies, and brand strategy.
Gerry White has been in the industry for 20+ years, with a background in development he transitioned to technical marketing leading on SEO, analytics and digital growth strategies for companies, agencies, the government and corporations such as the BBC. A regular judge for awards such as the UK Search Awards, Growth Awards and E-Commerce Awards and was the Technical SEO Lead for Just Eat a FTSE 100 company in 12 markets as well as consulting for other e-commerce brands.
hosted by

Yoast