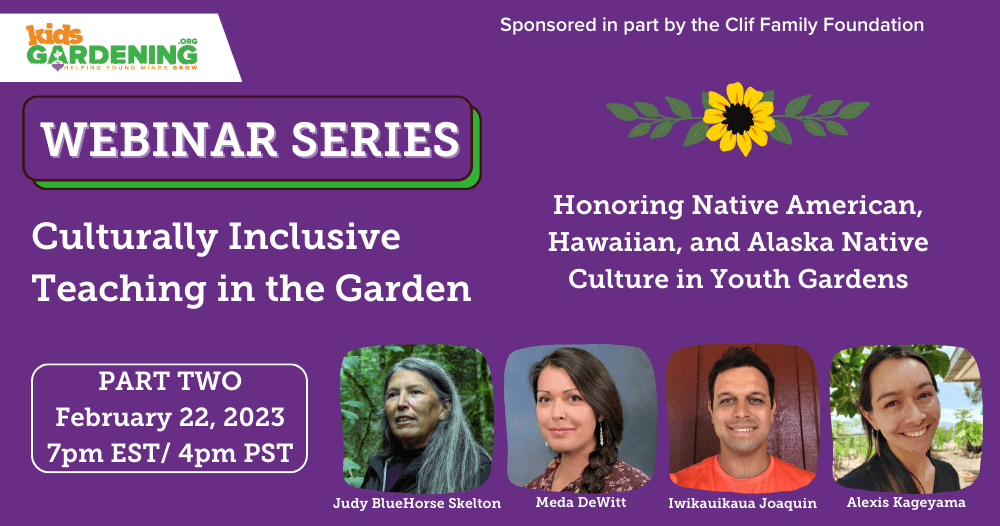 Honoring Native American, Hawaiian, and Alaska Native Culture in Youth Gardens
By KidsGardening
Culturally Inclusive Teaching in the Garden Webinar Series
By their nature, gardens embody diversity. Garden education is increasingly recognized as an interdisciplinary approach that integrates academic goals, health and wellness, place-based education, and community connections and relationships. However, discussion of culture is often missing in garden-based education. To validate and celebrate the interests and experiences of our students, we will delve deep into the significance of culture as it relates to food and gardens and also as it relates to the diverse populations with whom we work.
Join us as we explore ways to celebrate and center culture through garden-based learning.
This series is made possible by a sponsorship from the Clif Family Foundation and contributions from folks like you.
Session #2: Honoring Native American, Hawaiian, and Alaska Native Culture in Youth Gardens
Judy BlueHorse Skelton
(Nez Perce/Cherokee) is Assistant Professor in the Indigenous Nations Studies Program at Portland State University, teaching Indigenous Ecological Healing Practices, Contemporary Issues in Indian Country, Indigenous Women Leadership, Indigenous Gardens and Food Justice, and Indigenous Architecture and Design. She's worked with federal, state, and local Native organizations and tribes throughout the Northwest for more than 25 years, conducting cultural activities and research focusing on traditional and contemporary uses of native plants for food, medicine, ceremony, and healthy lifeways. In 2017 she received the PSU President's Diversity Award and in 2014, the Oregon Indian Education Association's award for Outstanding Indian Educator. In addition to her latest works listed below, Judy is the author of six collections of essays for teachers, including Native America: A Sustainable Culture (1999), and Lewis & Clark Through Native American Eyes (2003).
Collaborative work includes the Confederated Tribes of Siletz Indians, the Confederated Tribes of Grand Ronde, and the Native American Rehabilitation Assn. (NARA), the Many Nations Academy at Native American Youth and Family Services (NAYA), and other Native organizations in the Northwest. Judy serves on the Center for Tribal Nations Advisory Council to OMSI, Affiliated Tribes of Northwest Indians (ATNI), and the Columbia River Inter-Tribal Fish Commission (CRITFC). Judy serves on the boards of The Nature Conservancy and The Urban Greenspaces Institute. She has served as co-Chair on the Native American Community Advisory Council (NACAC) since its formation in 2011, partnering with Portland Parks, Metro, Bureau of Environmental Services, and US Fish and Wildlife Service, integrating Indigenous land practices with Indigenous traditional ecological and cultural knowledge (ITECK) to address Food Sovereignty/Justice and reclaim the urban forest for physical, mental, emotional and spiritual health.
Meda Dewitt
is a Lingít traditional healer, certified massage therapist, ethno-herbalist, educator, and virtual and in-person events coordinator. DeWitt has associates degrees in science and human services; a bachelor's degree in liberal studies: women's rites of passage; a master's degree of arts in Alaska Native traditional healing from the Alaska Pacific University; and is currently in an Indigenous studies doctoral program at Te Whare Wananga o Awanuiarangi, New Zealand. Meda focuses on a multi-faceted approach to achieving holistic broad spectrum movement building. Meda's work revolves around the personal credo "Leave a world that can support life and a culture worth living for." Her work experience draws from her training as an Alaska Native traditional healer and Healthy Native Communities capacity building facilitator. Meda's Tlingit names are Tśa Tsée Náakw and Khaat kła.at, adopted Iñupiaq name is Tigigalook, and adopted Cree name is Boss Eagle Spirit Woman "Boss." Her clan is Naanyaa.aayí and she is a child of the Kaach.aadi. Her family comes from Shtuxéen kwaan (now referred to as Wrangell, AK.) Meda's lineage also comes from Oregon, Washington, and the BC/Yukon Territories. Currently she lives on Dena'ina lands in Anchorage, Alaska with her fiancé James "Chris" Paoli and their eight children.
Iwikauikaua Joaquin
is an
ʻĀina and Sustainability Kumu at Kamehameha Schools Maui. He is a Maui Native Hawaiian farmer, gatherer and forager of the land and sea, a traditional Hawaiian architect, stone mason, and Hawaiian culture-based environmental educator.
Kumu Alexis Kageyama
grew up in California and is a graduate of University of California, Santa Cruz. Over the years she has worked at many different school-year programs and summer camps covering a wide range of topics such as science-based garden education, STEM innovation, self-directed learning, and nature connectedness. Before she came to Kamehameha Schools, Alexis worked as a naturalist teacher at an outdoor school in the Sierra Nevada Mountains and a school garden coordinator with the nonprofit Grow Some Good, where she spent two years developing and implementing garden education programs at Kamaliʻi Elementary School and Lokelani Intermediate School in Kīhei. In 2019 Alexis came to Kamehameha Schools Maui as an ʻāina (land/earth) and sustainability engagement kumu (teacher), working to strengthen ʻāina-based programming across the K-12 campus and assisting in various sustainability initiatives. More recently, Alexis has moved into the classroom and is teaching K-3 science in a new pilot program which aims to blend ʻāina-based learning with standards-aligned science education. During her free time Alexis loves to create visual art and spend time outdoors camping and hiking.
hosted by

KidsGardening